Air France pilots' union to go on strike day after Euro 2016 kicks in
Spaf (Syndicat des Pilotes d'Air France), the second biggest pilot union at Air France, has reportedly announced that it will go on a strike beginning 11 June, a day after Euro 2016 kicks in. The French government is already facing a tough time dealing with fuel shortage and transportation disruptions following days of countrywide protests and strikes against a controversial labour law.
The union's announcement follows a similar strike call by the SNPL union, the main union of Air France pilots. SNPL is yet to announce when it will begin its strike, but has said it will stop work for at least six days. The unions are calling the strikes to protest against imminent pay cuts.
In its official strike notice, the Spaf union has warned of a "two to four day walk-out." The decision was taken after talks between the union heads and the CEO of Air France on Wednesday failed, the French edition of The Local reported, citing local publication France Info. The union represents about a quarter of Air France pilots and thus, the strike is not expected to have a severe impact on flight schedules. However, if SNPL decides to schedule its strike during the same time, the resulting effect could become a major cause of concern for the airlines.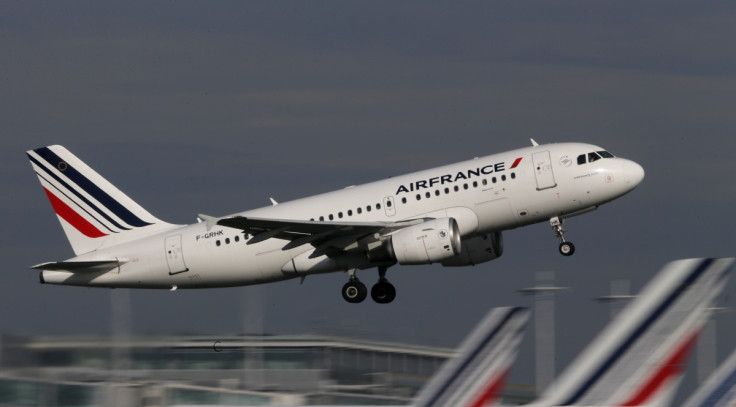 After SNPL union, the main union of air France pilots, said they will stage a strike, Spaf union - the second biggest - has announced that it will begin its strike from 11 June, a day after the Euro 2016 kicks in
Reuters
Weeks of protests and demonstrations across the country and shortage of fuel following oil strikes have already lowered the number of tourists to France. Rail workers and Paris metro staffers have also joined the protests, adding to the transportation woes of people.
The strike calls from the Spaf union and SNPL could worsen conditions in the country, which was expecting a considerable turnout of soccer fans from across Europe. Civil aviation staff, which includes air traffic controllers, have also threatened to go on a national strike between 3 June and 5 June over shortage of staff – an issue that has remained unresolved for over a decade. However, authorities are expecting the strike call would be withdrawn with negotiations still underway.
© Copyright IBTimes 2023. All rights reserved.