Two oil slicks have been spotted in the search area for missing AirAsia flight QZ8501.
But it is too early to confirm whether the oily spots identified by an Indonesian helicopter in the Java Sea, east of Belitung island, are connected to the aircraft that disappeared from radar Sunday morning (28 December) 40 minutes after leaving Surabaya airport.
The sighting comes after an Australian search plane detected "suspicious" objects near Nangka island, 700 miles (1,120km) from where the plane lost contact.
Jakarta's Air Force base commander Rear Marshal Dwi Putranto said: "We cannot be sure whether it is part of the missing AirAsia plane. We are now moving in that direction, which is in cloudy conditions."
Unlike the Australian discovery, the oil patches were spotted within the search area, which stretches 37 miles (60km) around the point where the air-traffic controllers lost contact with the plane after the pilot requested to increase its altitude from 32,000ft to 38,000ft due to the adverse weather conditions.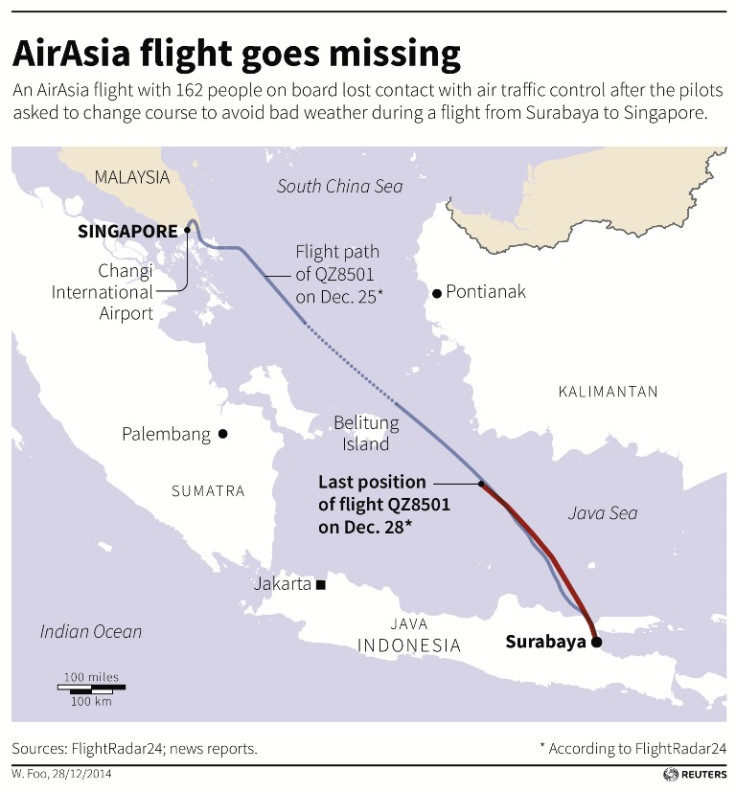 Bambang Tjahjono, director of the state-owned company in charge of air-traffic control, said ground staff could not grant immediate permission because of another flight travelling at 34,000ft.
By the time clearance was given Flight 8501 had disappeared from radar. Storm clouds were detected up to 13,400m (44,000ft) in the area at the same time.
"There could have been turbulence, lightning and vertical as well as horizontal strong winds within such clouds," said Sunardi, a forecaster at Indonesia's Meteorology and Geophysics Agency.
There were 162 passengers and crew on board including 16 children, and one infant.
AirAsia said the captain had more than 20,000 flying hours including 6,100 with AirAsia and on the Airbus 320.
Angela Anggi Ranastianis, the captain's 22-year-old daughter, pleaded on her Path page: "Papa, come home, I still need you. Bring back my papa. Papa, please come home."