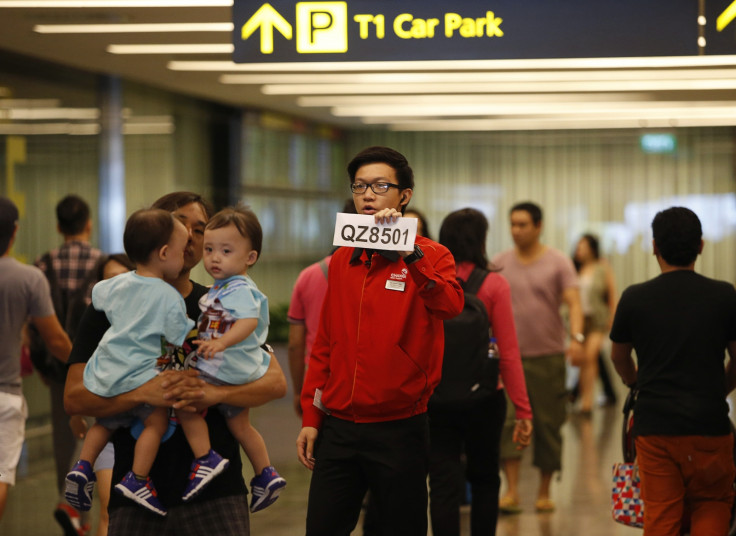 The search for missing AirAsia Indonesia flight QZ8501 has been suspended until morning due to bad weather and poor visibility, an Indonesia Transport Ministry official has confirmed.
The A320-200 Airbus, carrying 162 passengers and crew, disappeared over the Java Sea an hour into its flight at 06:24 local time (23:24 GMT Saturday).
Bad weather was reported in the area, but no distress call was made. The New Straits Times reported that a Royal Malaysian Air Force C130 Hercules and three navy vessels have been searching an area in the Java Sea, Borneo.
Early unconfirmed reports of wreckage being sighted have been denied by Indonesian government officials and search-and-rescue specialists.
Confirming that the search has now been halted, Ministry official Hadi Mustofa said: "We ended at 1730 (1030 GMT) because it was getting dark. The weather was also not too good as it was getting really cloudy. Tomorrow we will begin at 7 am, or even earlier than that if the weather is good," he added.
I am touched by the massive show of support especially from my fellow airlines. This is my worse nightmare. But there is no stopping.

— Tony Fernandes (@tonyfernandes) December 28, 2014
Meanwhile, more than 100 anxious relatives of the missing passengers have been gathering at airports in Singapore and Surabaya awaiting news of the flight. They have been accommodated at a makeshift crisis centre at Surabaya airport in East Java.
Among the missing passengers are a family including a groom-to-be, his parents and brother. Fox News reports that Alain Oktavianus Siaun and his family were intending to enjoy one last holiday together before he was married.
His fiancée Louise Sidharta told the Star in Malaysia that she is trying to remain positive. "I heard it on the radio and immediately browsed the Internet and saw the news. My heart knew by then that my fiancé was on that flight. We have to stay positive and hope that they (loved ones) could be found soon," she added.
Another relative named Haryanto, who has four relatives on the flight said: "We've been given accommodation from AirAsia, but I couldn't rest with this on my mind."
AirAsia's chief executive Tony Fernandes flew to Surabaya as soon as the news of the missing plane was reported. At a press briefing he said: "We are very devastated by what's happened, it's unbelievable.
"Our concern right now is for the relatives and for the next of kin - there is nothing more important to us, for our crew's family, and for the passengers' families. We hope that the aircraft is found quickly, and we can find out the cause of what has happened."
Weeping relatives await news about the #AirAsia missing plane at Juanda International Airport. http://t.co/EBHPbfWb3r pic.twitter.com/mV5SJ0w9tv — KHOU 11 News Houston (@KHOU) December 28, 2014
Sunu Widyatmoko, CEO of AirAsia Indonesia reiterated the sentiment saying: "We are deeply shocked and saddened by this incident. We are cooperating with the relevant authorities to the fullest extent to determine the cause of this incident. In the meantime, our main priority is keeping the families of our passengers and colleagues informed on the latest developments."
Indonesian officials say the flight, which had 162 passengers and crew on board, asked for an unusual route when contact was lost. Dense storm clouds were also reported in the area at the time the plane lost contact.
The pilot had asked permission to climb to 38,000ft (11,000m) to avoid the clouds. But Indonesian transport ministry official Djoko Murjatmodjo said the request "could not be approved at that time due to traffic, there was a flight above, and five minutes later [flight QZ8501] disappeared from radar".
The AirAsia group has previously had no fatal accidents involving its aircraft. Mr Fernandes, who has owned AirAsia since 2001 and turned it into a highly successful operation, tweeted: "This is my worst nightmare."
The search operation resumes at 23:00 GMT.
An Emergency Call Centre is now available for those seeking information about relatives or friends who may have been on board the flight. The number is +622129270811.