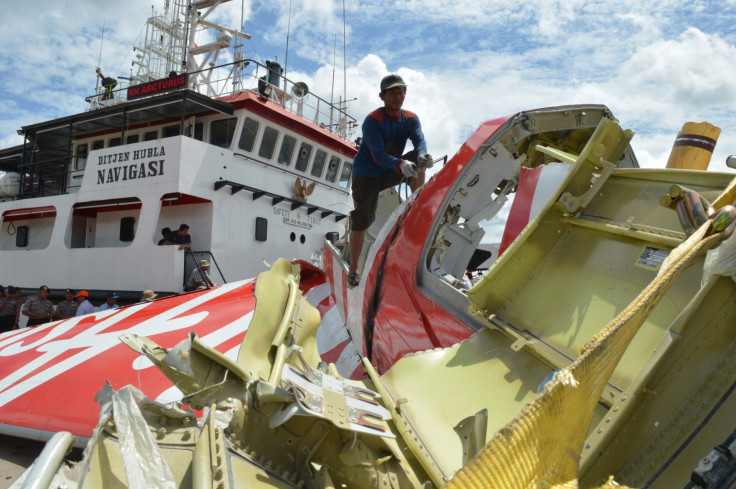 Indonesian divers may have found the body of the co-pilot who was flying on AirAsia flight QZ8501 when it crashed into the Java Sea killing everyone on board.
The search and rescue coordinator, S.B. Supriyadi said the body was believed to be that of the French co-pilot Remi Plesel.
"It is likely to be the body of the French co-pilot, wearing uniform with three stripes on shoulder," he told news agency AFP. He added that the body is in poor condition and that it is now on board the Pacitan warship, prior to being taken to land.
The French co-pilot was flying the plane when it crashed, rather than Captain Iriyanto – who was much more experienced and a former fighter pilot.
Two individuals close to the crash investigation have revealed that Captain Iriyanto had left his seat to disconnect a faulty flight augmentation computer, leaving the co-pilot in control.
Flight QZ8501 crashed during a storm on December 28, killing everyone on board – a total of 162 people – during what was intended to be a short trip to Singapore from the Indonesian city of Surabaya.
So far 101 bodies have been found, Supriyadi said. Rescue services are continuing to attempt to lift the fuselage from the seabed with giant inflatable bags.
Investigators believe the flight augmentation computer malfunctioned during the flight, but instead of resetting it, Captain Iriyanto left his seat and disconnected it from a circuit breaker situated behind co-pilot Plesel. The co-pilot is then believed to have lost control.
The plane climbed sharply and then either stalled or lost thrust, before falling almost straight down into the ocean. However, this scenario discounts the fact that the computer has a reset button on the dashboard, so it is not clear why Iriyanto left his seat.
An A320 pilot, who wish to remain anonymous, told the Daily Mail that cutting all power to the computer would be very unusual: "You don't pull the circuit breaker unless it was an absolute emergency."
The aircraft's black box recorders have been recovered from the seabed and might shed further light on the aircraft's final moments.
The official investigation into the crash remains at an early stage. Meanwhile, lawyers acting for the family of co-pilot Plesel have filed a lawsuit against AirAsia in Paris for "endangering the lives of others" by using the route without official authorisation.
AirAsia has so far failed to comment on the lawsuit.