Airbus Group's shares rallied in morning trade after the aerospace group reported better than expected first-quarter earnings and managed to duck the impact of higher costs for its upcoming A350 jet, on track for a late 2014 debut.
Shares in the world's second-largest aerospace group after Boeing jumped 8.82% on 13 May and were trading 6.71% or 3.32 points higher to €52.81 at 12:48 hrs in Paris, their highest in more than a month, valuing the firm at some €40.8bn (£33.2bn, $55.9bn).
Airbus's earnings before interest, tax and one-time items for the three months to March 2014 fell by a smaller than expected 4.6% to €700m ($964m, £571m) as revenue rose 5% to €12.6bn.
A Reuters poll of analysts forecast underlying quarterly operating income to drop 13% to €644m on revenue of €12.4bn.
The company said its new A350 jet was "progressing towards certification. The first two customer aircraft are now in the assembly line with certification targeted for the third quarter," in time for the first delivery by the end of the year to Qatar Airways.
Airbus reiterated plans to slash 5,800 jobs as part of a restructuring of the company's defence and space division. Management expects to conclude talks with unions by mid-year.
Outlook
The group said in a statement it "expects the world economy and air traffic to grow in line with prevailing independent forecasts and assumes no major disruptions.
In 2014, Airbus deliveries should be about the same level as in 2013, including the first A350 XWB delivery. Gross commercial aircraft orders should be above the level of deliveries."
"Assuming an exchange rate of € 1 = $ 1.35, Airbus Group revenues should be stable compared to 2013.
In 2014, using EBIT before one-off, Airbus Group expects moderate return on sales growth and confirms its 2015 return on sales target of 7% to 8%," the Franco-German firm added.
Potential Iran Sale
Iran is planning to buy 400 passenger planes in the event of Western sanctions being lifted, according to the country's top aviation official.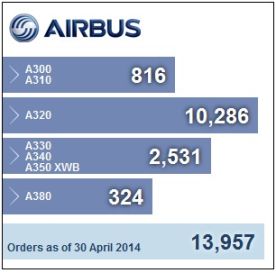 The move could provide a potential windfall for Western manufacturers including Airbus and Boeing.
The two firms are the main contenders to capitalise should the Iranian market open up in the future, as Iran already has vintage aircraft from these manufacturers.
Asian Demand
In March, Singapore's Tiger Airways placed an order for 37 Airbus A320neo aircraft, taking delivery of the planes between 2018 and 2025.
In February, China Eastern Airlines, among the country's top three carriers, ordered 70 A320neo planes, marking a huge victory for Airbus that has been marketing the upgraded variant of its popular A320 jet to Chinese buyers.