An Al-Qaeda terrorist attacked four guards with a razor blade at a French prison on Thursday (11 January), just weeks before he becomes eligible for extradition to the US to face charges for his involvement in 9/11.
German national Christian Ganczarski, who is believed to have been an advisor to former Al-Qaeda leader Osama bin Laden, reportedly launched himself at prison officers after hearing that he may face extradition to the US for his role in the 9/11 attacks.
In 2009, Ganczarski was jailed in France for 18 years over being one of the masterminds behind an attack on a synagogue in Djerba, Tunisia, in 2002.
Some 21 people were killed when a bomber drove a tanker truck filled with gas into the synagogue.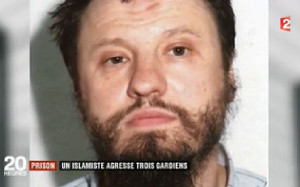 Ganczarski's sentence was due to end in February. He is wanted for extradition by the US in connection with the 9/11 investigation.
He was an accomplice of 9/11 mastermind Khalid Sheikh Mohammed, who is imprisoned in Guantanamo Bay.
On Thursday (11 January), officials said Ganczarski attacked four guards with a razor blade and chisel, ahead of his extradition to the US.
"The head of the establishment told him that he would be extradited to the United States where he is suspected of being one of the organisers of the Sept. 11 attacks," Jean-Francois Forget, secretary general of the UFAP-UNSA penitentiary union, told Reuters.
"He was recorded in a telephone call saying he would do something to stay in France," Forget said.
Three of the officers sustained minor injuries following the attack. Prosecutors have opened a counter-terrorism investigation into the incident, which is likely to delay any extradition.