A kosher grocery store in Paris has been burned down on the third anniversary of a deadly attack by an Isis gunman against a Jewish supermarket.
Police said they are investigating a suspected arson attack against the Promo & Destock store in the Parisian suburb of Créteil. The store was recently defaced by Nazi swastikas.
"The damage is believed to be very severe," prosecutor Laure Beccuau told AFP, adding that police do not believe that the fire was an accident.
"There's a link between the graffiti and the fire," Jewish community leader Albert Elharrar told AFP. "It's clear that they came for no other reason but to attack a kosher shop on the day of the commemorations."
The shop was completely destroyed by fire in the early hours of Tuesday (9 January), the third anniversary of the Isis-inspired attack on a kosher supermarket which left four people dead.
Two days after gunmen shot dead journalists at the Charlie Hebdo office, their accomplice Amedy Coulibaly attacked people in the Hypercacher kosher supermarket, holding 19 people hostage for hours. He was shot dead by police.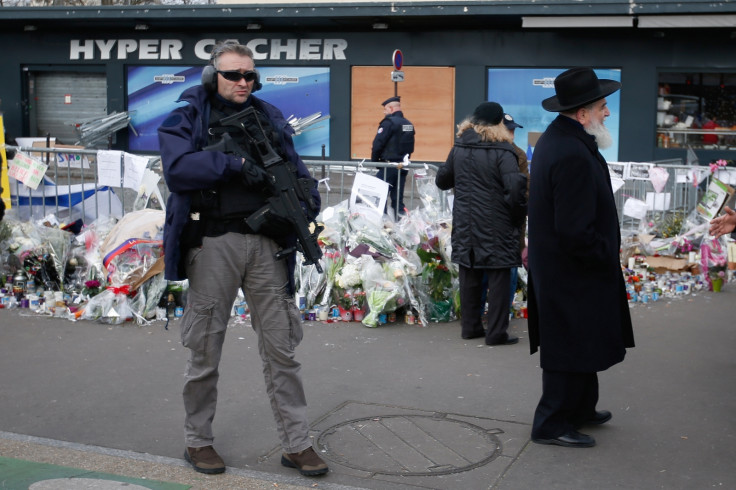 In the aftermath of the Paris terror attacks, a record number of French Jews fled the country, moving to London and other European cities.
After the attacks, the French government heightened security around Jewish centres and schools. Some 10,000 soldiers survey the streets, mainly in Paris, and 800 Jewish buildings are under permanent surveillance, according to a report by the Kantor Center in Israel. The measures were effective: in 2016 anti-Semitic incidents fell by 61% in France.
But anti-Semitism still remains an issue in France. Just last week, two Jewish stores in the area of Creteil were vandalised with anti-Semitic graffiti. In 2017, a Jewish woman died after she was pushed from balcony by an Arab man. The Jewish Community Security Service described the incident as a "hate crime."
Former Prime Minister Manuel Valls told Europe Radio 1 on Tuesday (9 January) that more needed to be done to tackle anti-Semitism, which he said he become "deeply rooted" in French society.
"What has changed over the past three years is the awareness of this level of anti-Semitism," he said. "These crimes must be prosecuted and condemned, we need to do more."