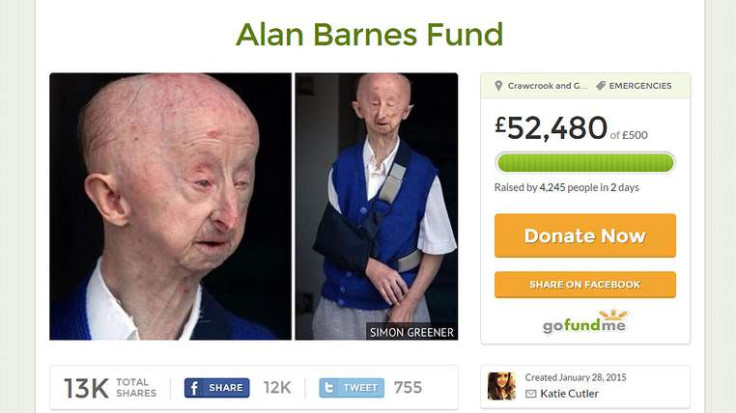 Donations for a disabled pensioner who was mugged outside his home have reached over £160,000.
67-year-old pensioner Alan Barnes who is visually impaired, was afraid to return to his home in Low Fell, Gateshead after he was attacked on Sunday (25 January).
Mr. Barnes, who has disabilities from birth after his mother contracted German measles when she was pregnant, broke his collarbone when he was pushed to the ground by his attacker.
After reading about the mugging, beautician Katie Cutler set up the Help Alan Barnes online donation page on the Go Fund Me site an online fundraising page in the hope of raising £500 for the pensioner.
The appeal went viral and the fund was flooded with donations from 11,700 well-wishers brining the fun to £165,644.
Kutler wrote: "I was so upset that anyone could target a disabled pensioner and be so cruel. We can't take away what has happened but with a little donation we can make the future a prettier one and help towards the cost of his new home. Thank you all."
She said that the show of generosity demonstrates "there are so many lovely people out there".
Geoff Poole, who made a donation to the fund said: "The life of Alan Barnes will be improved and he will feel safer, not only because of the extreme generosity of the people donating, but also because of the selfless act performed by Katie, who took the time to help someone she doesn't even know. Well done Katie, you have restored my faith in human nature."
Another online contributor, Lorraine Susan, added: "I really hope this fund helps him get settled somewhere nice & safe. At least he knows there are literally thousands on his side.
"Not just people in the North East, but we've had people donating from Canada, Holland, down south, the USA, New Zealand. This person that hurt Alan is just a minority."
Reacting to the show of public support Mr Barnes, a well-known figure in Low Fell, said it was "just unbelievable."
"I've heard of fundraising for charities but I've only got a fractured collarbone, I didn't expect that sort of response," he said. "Thank you doesn't really seem to answer it, does it?"
Police described the cruel attack against the disabled pensioners as "disgraceful."