A shocking fake image showing the Duchess of Cambridge with a black eye has surfaced on the internet. The image of the ever graceful Kate Middleton, who appears to have a bruised eye in the picture, is from an online advertorial that distastefully edited the Duchess' image.
The doctored image of Kate also includes a suggestive caption, "Kate Finally Reveals What Caused the Dispute."
While the fake photograph intends to imply some sort of violence, clearly it's just meant to be a clickbait advertisement for a skincare product.
Once clicked on the "exclusive" link, the image directs to an article on a fake site that reads, "Princess Kate Middleton Will Spend Time Away From the Royal Family To Campaign For Breakthrough Skincare Line!"
Unlike the edited photograph of Kate with a bruised eye, the accompanying piece makes no mention of any violence or the so-called "dispute", thus misleading readers on clicking on the advert.
According to reports, Junivive, the skincare brand advertising with the controversial image has a reputation for such misleading promotions.
A description for the skincare line - as quoted by Mirror Online reads - "a hostile to maturing cream which resembles a gift to every one of those lady who had been in an urgent look for a cure of their maturing signs."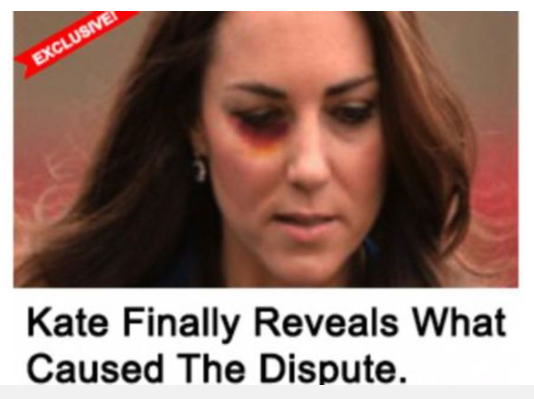 Considering that the 35-year-old royal has become a symbol of class and elegance with her unique style, she has often found herself the subject of numerous newspaper and magazine articles. However, the latest advertorial seems to make an outrageous attempt at promotions with implications of domestic violence.
Since surfacing on social media, the ad has faced criticism.
Speaking about the strategy, Dr Lauren Rosewarne, a senior lecturer at the University of Melbourne told Mamamia, "There should be no place for references or allusions to domestic violence as part of any marketing strategy."