England captain Alastair Cook says meetings concerning Kevin Pietersen's return to international cricket are on-going while insisting a line must finally be drawn under the controversy.
Pietersen is currently undergoing a reintegration process with the England team, after he was dropped from the third test against South Africa, the T20 World Cup squad and test tour to India after exchanging test messages with members of The Proteas squad criticising then skipper Andrew Strauss.
The 32 year old is currently playing in the Champions League T20 competition with the Delhi Daredevils, but is flying back from South Africa in-between matches for meetings with Cook and fellow teammates and in an attempt to rebuild relations ahead of a potential recall for the tour to India.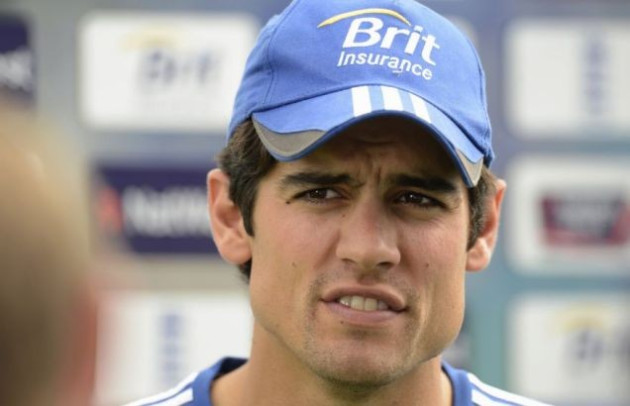 "I can't tell you all the details but the meetings have taken been going on and the process is well underway," Cook admitted.
"Clearly it has to be behind closed doors, you know that is a bit of a party line but as I said you all know about the meetings, they are going on and hopefully the best result can come.
"I don't know about [Pietersen's return] at this precise moment in time and I'm afraid you're going to have to wait and see on that.
"We do need to draw a line in the sand and move forward for the sake of English cricket. We need to move forward as a team, we've got an amazing 18 months ahead of us and we need to move together."
Having relinquished their world test No.1 ranking with a 2-0 series defeat at hands of South Africa in the summer and then their T20 World Cup crown in Sri Lanka without Pietersen for the duration, Cook admits England require their best players if they're to be successful during an 18-month spell which will truly test their credentials as the world's leading cricketing nation.
A four-match test series in India and five one-day internationals are followed by a tour to New Zealand early in 2013, while the Champions Trophy hosted in England and Wales is sandwiched by home series' against the Kiwis and Australia.
"We all know how important team harmony is and team ethos is and that showed when we were successful how tight we were as a side and we know that is an important thing in making good sides," Cook added.
"It's important that we don't rush this process so we can get the best opportunity, as I said we need all our world class players playing for England and it gives us a great opportunity of winning games of cricket.
"I don't want to go into details because it's not fair on the situation and you understand my position, I can't tell you what is going on at this precise moment in time but we've got to get it right, it's a decision we have to get right for the sake of English cricket and for the England side moving forward and it's got to be thorough so we can move on in the right way."
Without a test series win in India for 27 years, Cook faces a baptism of fire in his first tour as the permanent England captain in the longer form of the game, as he looks to continue the legacy left by Andrew Strauss, who won 24 tests in 50 as skipper.
Cook has taken an extended break from the game amid discussions over Pietersen's international future and his omission from England's T20 World Cup squad, and concedes he will consult with Strauss prior to the tour to the subcontinent.
"Clearly we do plan a lot for every series. We've got people in place back at Loughborough, obviously the analysts they play a massive part in that and clearly Andy and I have had conversations over the summer and we will do in the couple of days leading up to this tour," Cook said.
"We've got three warm-up games which replicates what happened in Australia to make sure we can get it right this year.
"I have spoken to him [Strauss] a couple of times since he's retired. He is a friend I've played so much cricket with and clearly it's one of those things you have to do it your way you can't do it Strauss' way.
"I don't think I'll be doing it any differently from how I did it in the one-dayers. For the side they expect it to be quiet similar because we're quite similar characters but clearly I'll have slightly different thoughts and different things when decision needs to be made at certain times."
See the best 8 teams in one day international cricket take part in the ICC Champions Trophy in June 2013 - tickets for The Oval, Cardiff and Edgbaston are on sale on 5 November at icc-cricket.com (pre-registration open now).