Actor Alec Baldwin will immortalise his Saturday Night Live (SNL) impression of President Donald Trump on print. Baldwin, along with Kurt Andersen, will release a political satire written as Trump called You Can't Spell America Without Me: The Really Tremendous Inside Story of My Fantastic Year as President Donald J Trump.
Baldwin's impersonation of the new commander-in-chief has catapulted SNL to new record ratings in what was only supposed to last until Democrat Hillary Clinton won the presidential election. Now the actor has made regular appearances on the sketch comedy show, despite his busy schedule.
According to Vanity Fair, Baldwin indicated in January that he plans to continue appearing on SNL "as much as I can" and revealed he intends to mock Trump in other ways. "There's discussions about other venues we might pursue to further express our gratitude and admiration for the Trump administration," Baldwin told ABC News.
Penguin Press announced Wednesday (1 March) that the actor would team up with novelist Kurt Andersen to write the book. A preview of the book's cover shows Baldwin donning his best Trump look—Russian flag pin included—, mouth wide open as he points to himself. It is scheduled for publication in November and will include an audiobook version read by Baldwin (as Trump), the New York Times reported.
Andersen was the co-founder of the satirical Spy magazine, which often mocked the real estate mogul turned leader of the free world. "I didn't think this former hobby of mine would return with this ferocity," Andersen told the Times in an interview.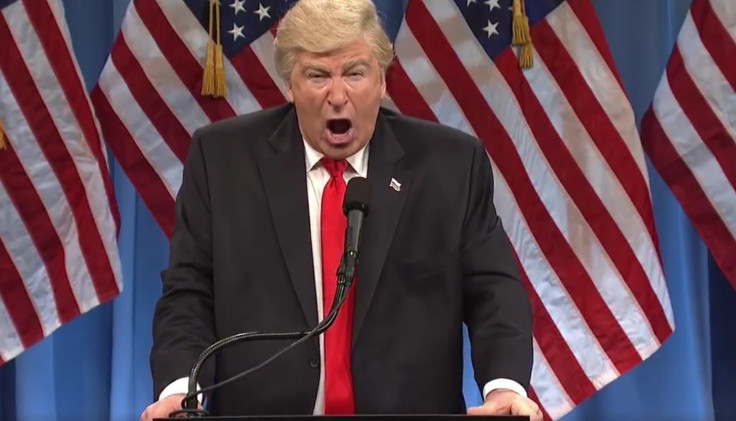 The novelist said that the book will attempt to capture more of Trump than Baldwin's impression. "I think we'll be channeling and amplifying the real Trump," Andersen said. "Writing for a five- or 10-minute sketch is different than writing a book, which has to be a narrative."
Baldwin, meanwhile, clarified that Andersen will most likely do most of the writing for the book. "I think it's fair to say that Kurt will do most of the writing," he said. "We have that arrangement whereby he doesn't put on the wig, I don't open up a Word document."
According to the Times, two other books have been influenced by the 45th president. Howard Jacobson's novella Pussy will be publishing in the UK in April and Salman Rushdie's The Golden House is set for September. Both have characters resembling Trump.
The President has yet to comment on the upcoming book.