Footage has emerged of the moment a black-suited gunman shot and killed the Russian ambassador to Turkey at an art exhibition in Ankara on 19 December. In one image the gunman stands with a handgun while Andrey Karlov lies wounded on the floor. Turkish officials have identified the assassin as a police officer, reponsible for security at the event.
In footage of the attack Karlov is delivering his speech when he is shot and falls to the ground, while the gunman raises his hand and shouts slogans. Several other people can be seen lying wounded on the floor.
Haşim Kılıç, a reporter for Turkish newspaper Hurriyet, was at the scene during the attack at the Russia Through Turks' Eyes photo exhibition, and said attendants at the exhibit ran away after the attacker fired into the air. The attacker then targeted Karlov, he confirmed. Kılıç also added that the attacker chanted Islamist slogans.
An eyewitness told RIA Novosti: "The ambassador was delivering a speech at the opening of the exhibition, and suddenly, during his speech, there was a shriek of 'Allahu Akbar!' — and someone started shooting. It is likely that the attack was aimed at the ambassador because after the shots were made the assailant let those present escape the room."
Witnesses said the attacker shouted "Aleppo" and "revenge". Russia has been accused of targetting civilians in its bombing campaign in support of the Syrian government in Aleppo.
"Whoever took part in this cruelty will pay the price, one by one ... Only death will take me from here," the attacker reportedly said.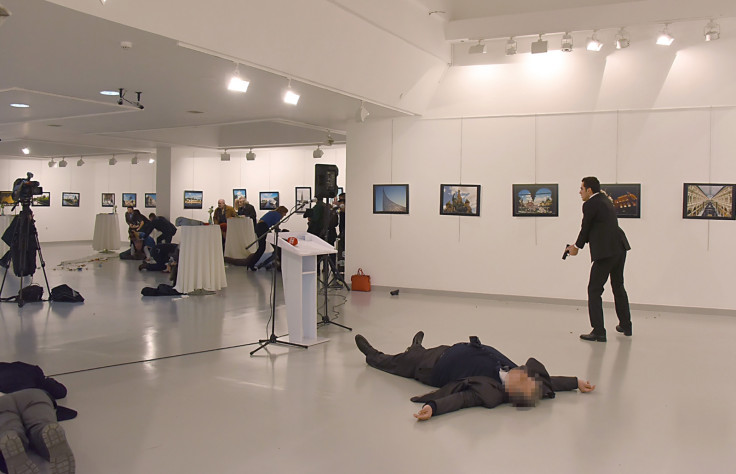 On 13 December there were mass protests against Russia's Syria policy outside the Russian embassy in Ankara and consulate in Istanbul.
Turkish police said the attacker has been 'neutralised'. Turkish security officials identified the attacker as Mert Altıntaş, who had graduated from İzmir Rüştü Ünsal Police Academy in 2014, reported Daily Sabah.
Ankara mayor Melih Gokcek confirmed the assassin was a police officer.
Karlov died from multiple gunshot wounds after being taken to hospital, the Russian Foreign Ministry said. It described the killing as a "terrorist act."
Three others were taken to hospital after being injured in the shooting.
Karlov began his diplomatic career in 1976, and has been Russian ambassador to Turkey since 2013, according to information posted on the website of the Russian embassy in Ankara.