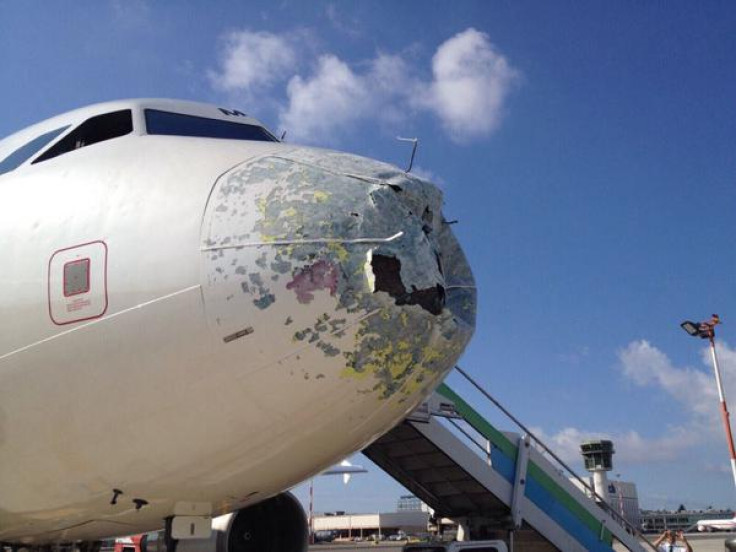 A passenger flight was forced to make an emergency landing in Naples after it was damaged by a violent hailstorm. Alitalia flight AZ2016 took off from Rome's main airport of Fiumicino at about 8.30am as dark clouds were looming over the Italian capital.
Minutes after departing for Milan, the Airbus A319-112 was caught in what the air carrier described as an "extraordinary and violent hailstorm", which battered the aircraft.
"For two or three minutes the fuselage [was engulfed] by a very loud noise," Luca Quadarella, one of the 110 passengers on board, told La Repubblica newspaper, adding that hail also washed away the Alitalia decal from one on the wings.
Pilots thus had to make an impromptu U-turn, diverting the plane from its north-bound route to land it safely at Naples's Capodichino airport as conditions did not allow it return to Rome.
Photos of the aircraft resting on the runaway posted on social media showed its nose badly dented. Italian media reported the damage was caused by a lightning, although Alitalia denied that.
Italy's flagship airline said: "Alitalia flight AZ2016 from Rome to Milan Linate, scheduled on 8.00am this morning, went through an extraordinary and violent hailstorm soon after taking off from Fiumicino airport.
"Therefore the pilots decided to head to Naples airport where, thanks to the professionalism of the crew and to the excellent aircraft state of maintenance, the plane landed safely and without inconvenience to guests. The 110 passengers on board were assisted by Alitalia staff at Naples airport and left to Milan with the first available Alitalia direct flight."