The production powerhouses and undeniable masters of hype, Netflix and Marvel have come together to create Daredevil, a re-imagining of the original story that will be uploaded in its entirety on the morning of the 10 April.
To get ready for an inevitable weekend of binge-watching, IBTimes UK offers up a lowdown of everything to do with the newest Marvel venture.
What's it all about?
Much like Fox's 2003 film, Daredevil centres around attorney Matt Murdock; a young man tragically blinded when he is trying to save an old man from a radioactive truck spill. The accident causes his other senses to become superhumanly heightened and working with experienced sensei and martial arts expert, Stick, Murdock is able to hone his new-found skills and become an impressive fighter.
Fuelled by his desire for justice, Murdock creates a law office alongside his friend Franklin 'Foggy' Nelson, with money from Foggy's father. Parallel to his career pursuits, Matt's need to make the world a better place leads him to invent the superhero and crime fighter Daredevil.
Unlike a lot of reboots, the Netflix original won't be an origins of story, but rather those facts will act as a sub-plot to the main goings-on. The programme is meant to immerse viewers into the present action from the first minute and will only detail how Daredevil came to be via a series of flashbacks throughout season one.
Who's playing who?
Boardwalk Empire's Charlie Cox will play the title role and Mockingjay Part 1's Elden Henson is portraying Murdock's college friend and business partner, Foggy.
Now that the vampire series has finished for good, True Blood's resident actress Deborah Ann Woll joins the show as Karen Page, a love interest of the main protagonist. Karen first joins the plot as a secretary who is hired at Murdock's law firm but swiftly becomes part of the drama when she and Murdock become romantically involved.
Law & Order: Criminal Intent's Vincent D'Onofrio will star as Wilson Fisk (or for those of you who know your stuff – Kingpin), the super-villain that acts as the antagonist to hero Daredevil. Fisk starts off in the Marvel Universe merely as a thug but after being employed as a henchman by a notorious crime boss, and later murdering him, Fisk soon has control over a mob-like empire and becomes Kingpin.
Rent's Rosario Dawson will also feature in the 13-episode series as Claire Temple, a night-shift nurse who looks after Murdock when he is admitted to hospital following the chemical accident.
It's going to be dark
Following on from popular trends seen in The Dark Knight trilogy and Fox's Gotham, the new Daredevil will be dark, as he is portrayed in the Frank Miller graphic novels and the likes of Elektra Lives Again.
Branded as being "nothing like [they've] ever done before" and hailed as the "bloodiest show Marvel has made yet", it seems as if the writers of this particular project have taken a leaf out of DC's book and gone for a more adult-orientated show.
There will be more series to follow
Daredevil is just the first in line when it comes to upcoming Marvel series that will be exclusive to Netflix in the next couple of years. Other projects that have already been confirmed are A.K.A Jessica Jones, Iron Fist and Luke Cage; stories that have all stemmed from the original Marvel comic books.
All three of the planned programmes are scheduled to go live on the streaming site sometime this year.
There might be some crossovers
It wouldn't be Netflix if it revealed anything about specific plot points this early on but in a universe so intricately intertwined as Marvel, superhero fans are bound to wonder whether the new programme may feature some tie-ins with other comic book stories.
Despite being the beginner series in terms of bringing Marvel to Netflix, showrunner Steven S. DeKnight has revealed to Collider that "there are a ton of Easter eggs in this series" and there are so many that there are "some for the hard-core fans and there are some that other people will recognise [too]."
Marvel's head of television Jeph Loeb also stated when talking about the upcoming plethora of Marvel TV shows: "These were characters that had known each other in the comics and had had relationships, particularly in the case of Jessica and Luke Cage. It gave us an opportunity to really look at that and find the best way to tell those stories. That's where it always begins."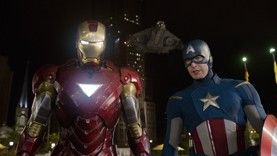 The show even bares some connection to Marvel's biggest movie Avengers Assemble, as the cast remark that Daredevil and co will be largely cleaning up the mess that the Avengers made.
"New York's been torn apart by the aliens and now everyone's trying to deal with it," Elden Henson said. "That's how the mob got their foothold in Hell's Kitchen, from the whole Avengers fight.
"The Avengers don't realise all this crime has trickled down because of their actions and I think that's so interesting how now that New York's been torn apart, what's going to happen with the criminal element if they're not dealing with it."
All 13 episodes will go live at 8.01am GMT on 10 April
The show's creator Steven DeKnight has confirmed over Twitter that the entire season will be uploaded to every Netflix platform across the globe at 12:01am PST, which translates as 8:01am for us in the UK.