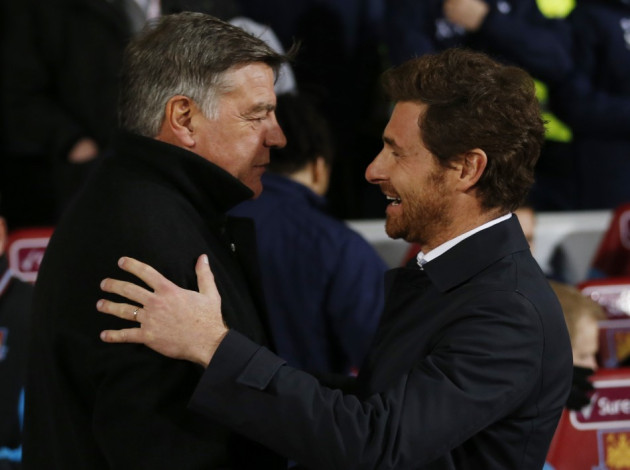 West Ham United manager Sam Allardyce has branded Andre Villas-Boas as immature after the Tottenham Hotspur boss criticised members of the press who he claimed attacked his "integrity and character" following the 6-0 defeat to Manchester City.
After Spurs' 2-2 draw with Manchester United, the Portuguese boss became embroiled in a war of words with Daily Mail journalist Neil Ashton while he also criticised Martin Samuel for articles written following the club's biggest league loss for two decades last weekend.
And Allardyce has waded in on the issue, claiming that Villas-Boas is naïve to take on the press regarding their criticism and that the Tottenham boss should "take it on the chin".
"You can't do it for me," the West Ham boss told talkSPORT. "You can try and do it tactfully but I think you've got to take it on the chin. You've got to use it as a motivational drive to show these people that they're absolutely wrong.
"You've got to do your talking on the field, and the players have got to do the talking on the field for you and the quality of the game did that for Tottenham against Manchester United.
"I think a little bit of immaturity needs to be asked. It's happened it can get under your skin but you've got to be big enough to take it on the chin because I don't think you'll win that one however much you have a go."
Reports emerged in mid-week that the Tottenham hierarchy were considering Villas-Boas' position while Swansea City manager Michael Laudrup emerged as the bookmakers favourite to replace him.
Former chairman Alan Sugar has also called for Villas-Boas to be replaced, with Tottenham now ten points behind leaders Arsenal with just 13 league games played.
Sugar has optimistically called for former Manchester United manager Sir Alex Ferguson to replace Villas-Boas, who the multi-millionaire businessman has consistently criticised.
Allardyce himself has alleviated pressure regarding his position at West Ham by ending a run of five games without a win as the Hammers beat Fulham 3-0 at Upton Park on Saturday.