A teenage Russian vigilante lynch mob beat and knifed a suspected paedophile to death, the day after they filmed themselves mercilessly beating the man, say police. A violent film uploaded to YouTube shows a teenage gang, some of them masked, beating the man the day before he was killed.
Police say the man, said to have been 47, had arranged to meet a 13-year-old girl telling her beforehand that he wanted sex during a social media chat. The girl then arrived with a gang of her friends where they attacked the alleged paedophile leaving him pleading for mercy in long grass near Efremovo, in the Tula Oblast region, which borders Moscow's southern edge.
The 10-strong gang are seen jumping up and down on the man in front of their friends with blood pouring from his nose. The posse are heard giggling as the kicks and punches intensify as he writhes in extreme physical pain.
The crowd is then seen walking away from the scene in a triumphant manner with cheers and laughing audible. It would seem that the alleged paedophile survived this assault, but the Daily Mail reported that another group of youths, aged between 16-17, met him next day on 26 July armed with a gun and knife.
After this second meeting, the man is believed to have died due to knife wounds with his body showing signs of "signs of a violent death". The newspaper also reported that he had a porn video involving underage girls, his online friends' list contained girls in their early teens, and that he had offered children alcohol and "gifts".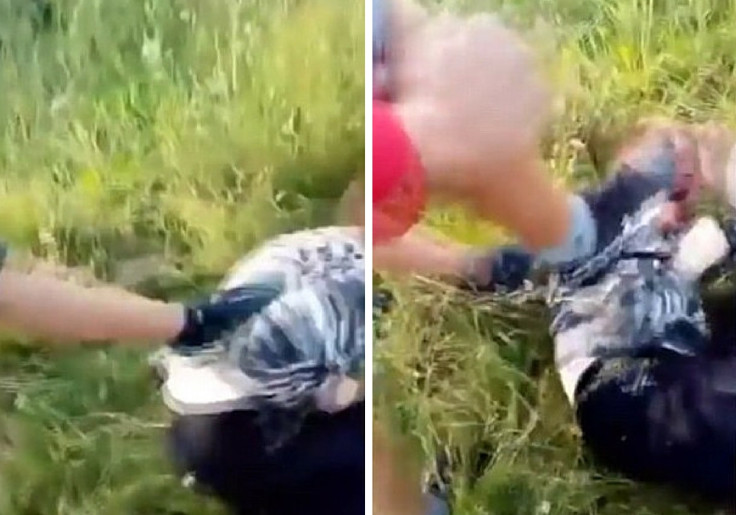 "The mother of the 13-year-old did not pay attention to her complaints about the man," it was said. According to reports from Russia the three teenagers were detained on suspicion "deliberate infliction of grave bodily harm causing death" which could result in 15 years in jail.
In June a horrific video of an alleged Mexican rapist being kicked to death by a furious vigilante mob surfaced online. The dead man was suspected of the abduction and then sexual abuse of a four-year-old girl in Nuevo Laredo, in the Mexican state of Tamaulipas which borders the US.