White nationalist Richard Spencer and members of his family own acres of cotton fields in an impoverished and predominantly African American part of Louisiana, records show.
According to records examined by The Center for Investigative Reporting, Spencer along with his mother and sister are absentee landlords of 5,200 acres of cotton and corn fields in the southern state.
The land is worth millions, with a parcel selling for for $4.3m (£3.2m) in 2012.
Louisiana has a long history of slavery and racial segregation, and was at the centre of the civil rights movement of the 1960s.
Spencer emerged during the 2016 presidential campaign as a key voice in the alt-right, a white nationalist movement, and has argued for the creation of an 'ethno-state', and believes immigration is an existential threat to white America.
What is the alt-right?
The alt-right is a loose collection of people with far-right views that came to prominence during Donald Trump's election campaign. Many members operating online profess views related to white supremacism, nationalism, anti-feminism and Islamophobia, amongst others. There isn't a defined core ideology to the movement, aside from a rejection of America's mainstream conservatism. Alt-right members generally supported Donald Trump and hailed campaign promises to build a wall along the US-Mexico border and ban Muslims from entering the country.
With the rise of Stephen 'Steve' Bannon, who was appointed as chief strategist and counselor to the president in Trump's White House team, there are fears that the alt-right now has a voice in the Oval Office. Bannon was previously executive chairman of the Breitbart News website, which he once called "a platform for the alt-right".
At a conference in Washington DC in November, Spencer and supporters celebrated the election of Donald Trump as US president, proclaiming 'Hail Trump' as they raised their arms in Nazi salutes.
In December, Spencer's mother, Sherry, said she had been forced to sell a property in rural Whitefish, Montana, because of local opposition to her son's views. Several of Spencer's organisations are listed as based in the town.
In an open letter sent to their local newspaper in December, Spencer's father Rand said that, while they love their son, "we are not racists. We have never been racists. We do not endorse the idea of white nationalism."
The documents shed light on a possible source of Spencer's income.
He is currently the director of white nationalist think tank the National Policy Institute, which was recently stripped of its tax-exempt status after failing to submit financial returns for three years.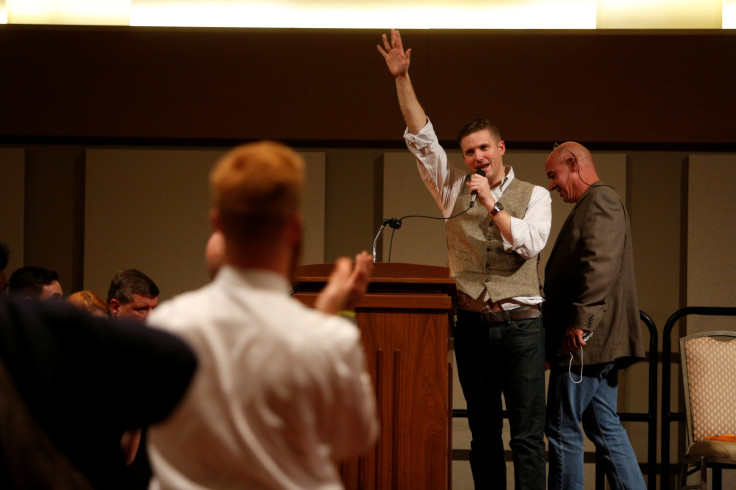 He has also launched the altright.com website with Swedish mining executive Daniel Friberg as a hub for white nationalist ideology and news.
Despite the alt-right positioning itself as critical of 'big government', the documents reveal that Spencer family farms receive substantial federal government funded subsidies. From 2008 through 2015, the Spencers received $2m in US farm subsidy payments, according to federal data.
The family's farm holdings were passed down by Spencer's grandfather, who reportedly built the businesses during the civil rights era.
When asked whether he uses his land holdings and federal subsidies to fund his political activity, Spencer told Mother Jones: "I'm not involved in any direct day-to-day running of the business," adding, "I'm going to navigate the world as it is, and I'm not going to be a pauper."