Amal and George Clooney: Tomorrowland premiere PDA done to 'position themselves as power couple'
Hollywood's most sophisticated married couple Amal and George Clooney could not have looked more loved-up at the premiere of his new movie Tomorrowland. But what does their red carpet PDA really mean?
The British lawyer supported her 54-year-old actor husband at the Disney movie's California premiere and, nine months since their lavish European wedding, the couple are clearly still smitten with each other.
Gravity star Clooney sweetly kissed his wife's hand and was very attentive as they posed for photos on the red carpet. Speaking to People magazine at the premiere, the actor also gushed: "I couldn't be happier right now. I wake up in the morning and I think: 'This couldn't be better.'"
The Monuments Men star also told Access Hollywood that dating Amal was initially "intimidating", revealing: "She's an incredibly warm, wonderful person so it's always intimidating. I think everyone gets intimidated."
However, according to one of the UK's leading body language experts Judi James, Clooney's affectionate gestures at the Tomorrowland premiere actually suggests his 37-year-old wife may be the "submissive" one in the marriage.
James told IBTimes UK: "When a man stoops to kiss a woman's hand it is a lowering gesture, signalling some form of submission from him.
"Which is fine if you are a royal and into courtly traditions but in modern life with all its sexual equality the gesture can often be embarrassing for the woman as the homage can leave you looking or feeling a bit silly."
The expert pondered: "How many newly married women would feel comfortable if their husbands kept kissing the back of their hand in public?"
Supporting her view, the Big Brother psychologist goes on to suggest that Amal's response to the Oscar-winner's romantic gesture may not be as warm as it appears to be.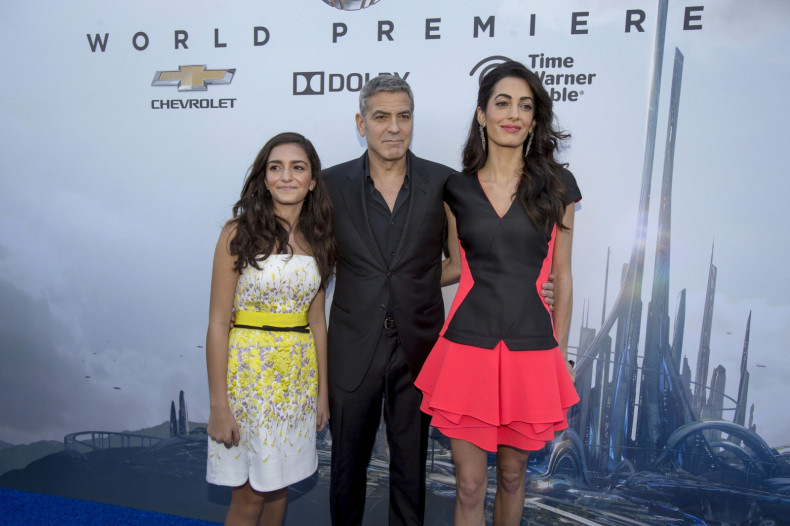 James explained: "It's interesting that his eyes are gazing forward rather than looking down at the hand and Amal's body language response has a slight air of awkwardness about it.
"She looks away from George rather than watching his romantic gesture, and the way her wrist is bent double with no other reciprocal touch or jokey response suggests she could be thrown a bit by the PDA."
The body language expert believes Clooney could be trying to make a bold statement with the display of affection and the couple are "positioning themselves as the world's number one A-list-with-a-brain-as-well-as-looks power couple".
She explained: "It's an idealised rather than a flirty gesture, as though George is still trying to tell us that he has found the perfect woman after so many years of looking.
"He might be the Hollywood star that all women dream about but he's pushing wife Amal to a place on a pedestal above his own in the pecking order with this knight-in-shining-armour ritual."
The couple married in Venice in August 2014 when they hosted a week of celebrations.