More rumours surrounding Amazon's first smartphone have surfaced, suggesting that the device will feature tilt-activated gesture controls to go along with its innovative 3D interface.
Reports that Amazon was planning to release its first smartphone in June first came earlier this month from the Wall Street Journal. Mobile and tech news site BGR subsequently released images of what the handset will look like.
BGR has now cited "multiple trusted sources" in revealing additional details about the customised Android software that Amazon's smartphone will run off.
Tracking cameras and sensors built into the device will reportedly allow users to navigate apps and menus on the phone through a unique variety of gesture controls.
By tilting the device in certain directions, menus will be displayed to the user without the need for touching the screen. This is thought to have been developed in order to facilitate better control of the phone with only one hand.
An example given of how this might work is within Amazon's online video store. A tilt of the phone will apparently bring up the IMDB ratings on top of the film's thumbnail. Tilting will also allow the screen to scroll up or down when users are reading on the Kindle app.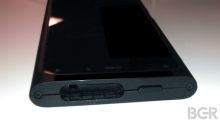 The tilt functions may even replace any form of traditional menu button, instead replacing it with a tilt gesture that will slide a new panel over the current screen.
Another feature revealed by the sources is the camera's ability to recognize text and convert it into a note using optical character recognition technology (OCR).
If such rumours are true, they would support the idea that Amazon is developing unique features in order to set the smartphone apart from other devices in an already crowded market.
Unfortunately for those outside the US, just like almost every Amazon product, the Amazon smartphone is likely to be available in the US only at launch, just like its recently launched Fire TV set-top box.