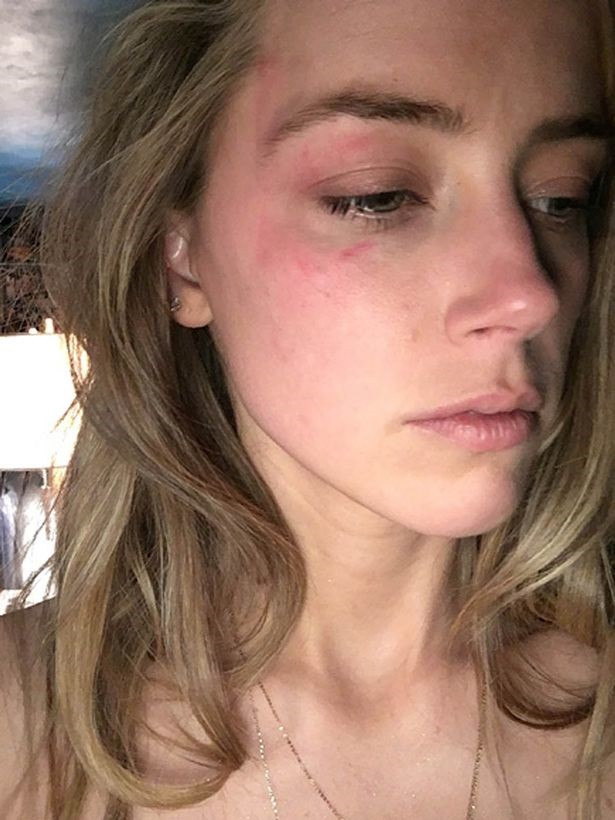 Shocking new details have emerged surrounding allegations of domestic violence made against Johnny Depp by his estranged wife Amber Heard. On Friday (27 May), Heard, 30, was granted a temporary restraining order against the Hollywood actor, after she accused him of hitting her on the face with an iPhone.
A Los Angeles judge ordered Depp, 52, to stay 100 yards away from the actress and ruled that he should not try to contact her until a hearing on 17 June. Images capturing her injuries were also submitted to the court and were later made public. One of the photos, taken on Saturday 21 May, the day of the alleged altercation, appears to show bruising around her eye.
In court documents, Heard provided details of at least three domestic abuse incidents in which she alleges she suffered violence at the hands of the of the Pirates of the Caribbean star.
She said that she "lived in fear" of his violent outbursts during their short-lived 15-month marriage and feared that he would return to the L.A. home to "terrorize me physically and emotionally."
In the court declaration, seen by Mail Online, she recounted the first incident which is said to have occurred on her 30th birthday, on April 21. She described how Depp arrived late for a party at her home and was already "inebriated and high."
She explained that after the guests left, a disagreement about his late arrival "deteriorated into a bad argument" during which she alleges that the actor threw a magnum size bottle of champagne at the wall and "a wine glass on me, and the floor, both which shattered."
"Johnny then grabbed me by the shoulders and pushed me onto the bed, blocking the bedroom door. He them grabbed me by the hair and violently shoved me to the floor. Johnny was also screaming and threatening me, taunting me to stand up. After several minutes, Johnny stormed out of the condominium, but not before tossing aside and breaking nearly everything in his path. I did not see Johnny again for another month," she explained.
The second alleged assault occurred on Saturday 21 May, the next time she saw him, and a day after the actor's mother passed away. She said that while she tried to console him about his mother's passing, he suddenly became "extremely angry."
"When Johnny arrived at first we were having a peaceful conversation in our living room talking about his mother's passing as I tried to comfort him while we sat on the couch. Suddenly he began obsessing about something that was untrue and his demeanor changed dramatically. He became extremely angry. I tried to calm Johnny down by calling one of his trusted employees to alleviate his misplaced concerns but it did not work. Johnny was becoming increasingly enraged.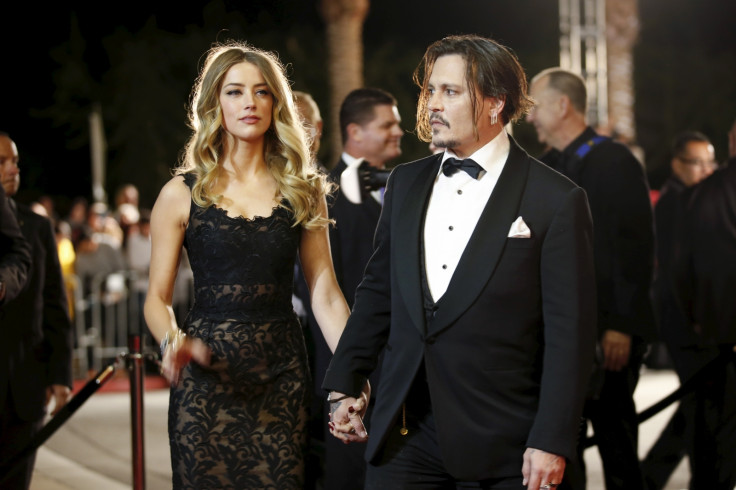 "I began to have concerns for my safety and sent a text to my friend Raquel who was in the condominium next door. I texted her to ask her to come over as Johnny continued to rant in an aggressive and incoherent manner.
"He then demanded we call our friend iO Tilet Wright (iO) to prove his paranoid and irrational accusations about some delusional idea he was having. As my call to iO went through on speakerphone, Johnny ripped the cellphone from my hand and began screaming profanities and insults at iO. I heard IO yell at me to get out of the house.
"Johnny then grabbed the cellphone, wound up his arm like a baseball pitcher and threw the cell phone at me striking my cheeky and eye with great force. I immediately covered my face and was crying because of the pain.
"Johnny charged at me, insisting on seeing my face. He taunted me, challenged whether or not the cellphone actually hit me. He then forcibly pulled back my hair as I attempted to stand up from the sofa. I then yelled out "Call 911", hoping it would be heard by iO who was still on the phone.
"Johnny continued screaming at me, pulling my hair, striking me and violently grabbing my face," she added.
She said that her friend, who had a spare key to the couple's condominium, entered the property and witnessed the escalating row. As the friend intervened standing between the rowing pair, Depp 'slapped' her arms out of the way. "Johnny then picked up the magnum size bottle of wine he had been drinking out of and he started swinging it around smashing everything he could." She says he 'charged' at her and shouted at her to stand up. "He did this about ten times getting closer to me, louder and more threatening each time.'
Her friend Raquel Pennington confirmed that she had arrived at the apartment to find Heard "covering her heard with her hands and arms and Johnny was loudly screaming at her" while swinging the bottle like 'a baseball bat. Wine was flying all over the walls, floors, furniture and he began using the bottle to smash everything he could," she said.
Heard said that while her husband's security team arrived at the scene on hearing the disturbance, they initially failed to help her. She added that they finally intervened when she threatened to call the police "if Johnny hits me one more time," prompting one of the security staff to say: "Boss, please."
She described how he continued his violent rampage as he left the apartment. "But Johnny continued screaming and breaking things, finally leaving the condominium. As Johnny went down the hallway, he smashed another bottle and wine then went into the adjoining condominium I used as my office, painting studio and closet.
"I could hear him destroying items of personal property as he continued screaming." By the time police arrived at the apartment, Depp had left the house.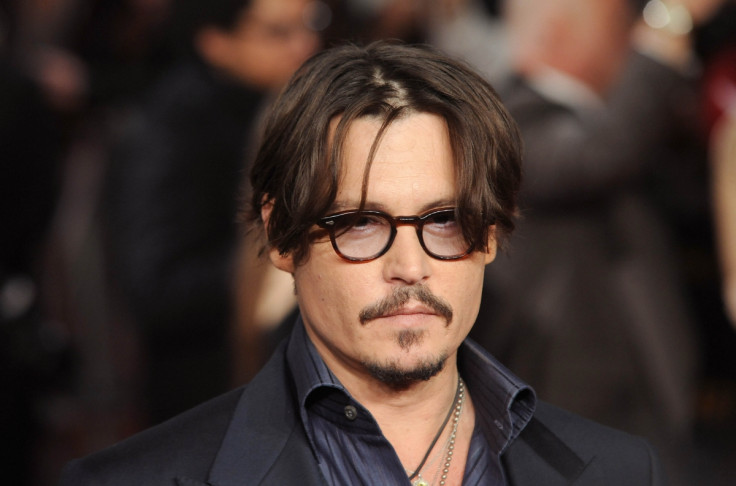 While photographs of a smashed photo frame, broken glass, a discarded wine bottle were presented in court documents as evidence of the alleged assault, LAPD Sgt. Marlon Marrache told PEOPLE that officers found "no evidence of any crime" adding that Heard had not wanted to press charges.
"A crime did not occur so the officers left the scene and left a business card," he said.
Heard claims that Depp, 52, offered her money to keep the incident quiet, but she instead made the decision to file for divorce. In a further statement The Danish Girl actress who was dating Depp for three years prior to their marriage said their relationship was marred by abuse.
"I endured excessive emotional, verbal, and physical abuse from Johnny, which has included angry, hostile, humiliating, and threatening assaults to me whenever I questioned his authority or disagreed with him. I live in fear that Johnny will return to [our house] unannounced to terrorize me, physically and emotionally."
She added that his violent outbursts were fueled by his alleged use of drugs and alcohol. "Johnny has a long-held and widely acknowledged public and private history of drug and alcohol abuse. He has a short fuse. He is often paranoid and his temper is exceptionally scary for me as it has proven many times to be physically dangerous and/or life threatening to me."
Depp responded to Heard's petition on Wednesday asking that the court rule he should not be required to pay spousal support and requesting that his estranged wife pay her own attorney fees.
Following the allegations of domestic abuse, Depp's team suggested the accusations levelled at him were motivated by financial gain. The Independent reports that Depp's lawyer Laura Wasser said in a statement: "Amber is attempting to secure a premature financial resolution by alleging abuse. Her current application for a temporary restraining order along with her financial requests appear to be in response to the negative media attention she received earlier this week after filing for divorce."
"He is unable to attend the hearing on this matter and has not heard Amber's specific allegations against him. He nonetheless has every intention of staying away from Amber and will stipulate to mutual stay-away and personal conduct orders," Wasser wrote.
Meanwhile, the three-time Oscar nominee was in Portugal at the Rock in Rio Lisboa music festival with his band The Hollywood Vampires. The actor was said to be calm and apparently unperturbed by the allegations against him, as he took to the stage smoking a cigarillo and playing his rhythm guitar.
Johnny Depp's first wife, Lori Anne Allison, who he divorced thirty years ago had come forward to defend him, stating that he was not capable of hurting anyone and never even raised his voice in anger. Actor Mickey Rourke also spoke out in his defence describing him as a "low-key gentleman" and "not violent."
While the negative press has appeared to have adversely affected the box office returns for his latest film, Alice Through The Looking Glass, the allegations of abuse have shocked fans of the Hollywood actor. While many ardent supporters have attempted to defend him, the public view on social media has been largely in favour of Heard with the hashtag 'I'mWithAmber' trending.