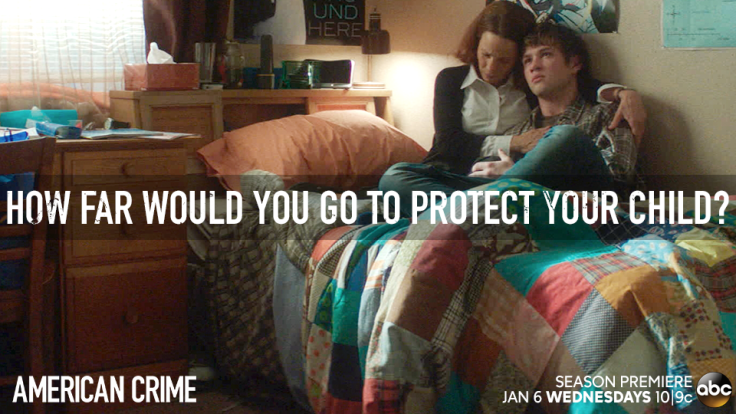 ABC's anthology series American Crime will return with season 2 on 6 January 2016 at 10pm EST. Season 1 regulars Timothy Hutton, Felicity Huffman, Lili Taylor, Elvis Nolasco, Regina King and Richard Cabral are set to return in new roles.
Warning: Potential spoilers ahead.
The second season will deal with sexual orientation and socioeconomic disparity with Falling Skies star Connor Jessup set to play the lead character Taylor Blaine. The story follows the life of Blaine, a high school boy, who accuses several players of a basketball team at a private school of sexually assaulting him and taking photos and posting them on social media.
Here is the full synopsis released by ABC:
Issues of sexual orientation and socioeconomic disparity come to a roil when lurid photos of a high school boy, Taylor Blaine, are posted on social media following a school party ... After the shocking photos of Taylor are posted, circumstances become more complicated when he accuses two players on an elite private high school's championship basketball team – Kevin LaCroix and Eric Tanner – of drugging, assaulting and then posting the pictures of him online. The team's head coach, Dan Sullivan, tries to unite the players while overlooking the dysfunction of his own family. Headmistress Leslie Graham struggles to maintain the school's reputation in the face of these accusations of privilege and cover up. Taylor's mother, Anne, remains a steadfast supporter of her son despite being publicly assailed by the school's wealthy families. Taylor's girlfriend, Evy, deals with racial tension at her own school, led by Principal Chris Dixon. And while the two schools at the center of the story are worlds apart in status, the lives of the students and teachers at both become inextricably linked.
Speaking about the season 2 plot, executive producer John Ridley Ridley, told Variety, "We wanted to take incidents that sometimes in other shows tend to be week-to-week and episodic and not just use them merely as plot points, but really see how they play out with family, how they have a cascade effect over time, and with the community as well."
The season will be set in Indianapolis as he said, "We wanted a city that could represent America and could represent where we are now, in terms of being of a canvas of America."
Actors Andre Benjamin and Regina King will star as the parents of one of the teenage boys accused of the crime. "As parents you're absolutely tested as your kids stand accused. Everything you believe about them gets upended. People with money have the capacity to protect themselves from the law or use the law to prove their innocence in a way that people who don't have money don't," Ridley shared.