The much-awaited show, American Crime Story: The People v O J Simpson premieres on 2 February at 10pm ET/PT on FX. The 10-episode series will showcase the trial of OJ Simpson, based on the book The Run For His Life by Jeffrey Toobin.
The show has a star studded cast with Cuba Gooding Jr playing OJ Simpson, John Travolta as Robert Shapiro, and Sarah Paulson as Marcia Clark. Friends star David Schwimmer plays Robert Kardashian, Billy Magnussen will be seen as Kato Kaelin and Courtney B Vance as Johnnie Cochran.
Episode 1 is titled, From the Ashes Of Tragedy, and the official synopsis reads as follows:
The murders of Nicole Brown Simpson and Ronald Goldman lead the LAPD to the home of O.J. Simpson (Cuba Gooding Jr.). Written by Scott Alexander and Larry Karaszewski; directed by Ryan Murphy.

Click here to watch the episode online on the FX website, and you can watch it live stream by clicking here.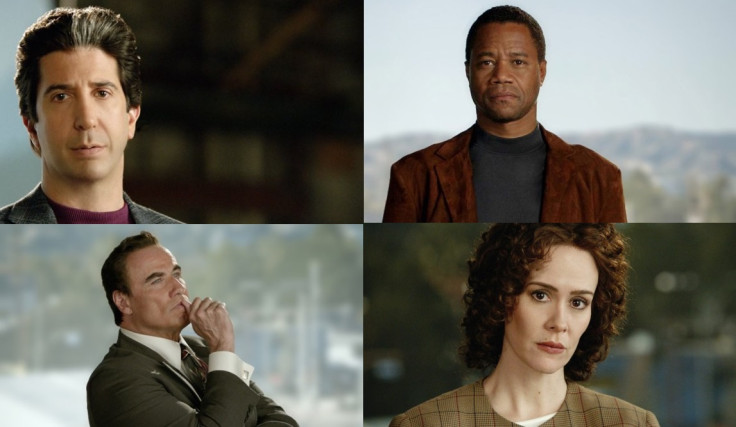 Robert Kardashian was Simpson's friend and defence attorney during the 1995 murder trial. Schwimmer spoke to Entertainment Weekly about his meeting with Kardashian's wife Kris Jenner.
Schwimmer said, "I was lucky enough to speak to Kris Jenner for a few hours. What I discovered about Robert was he was a man of great faith. He was a religious man. He had a very personal relationship with God. Prayed daily, before every meal, every meeting. I think that formed his sense of moral obligation to stay with O.J., and it wasn't for him to judge."
The Friends actor called Jenner "warm and generous" and said, "We spoke for a few hours in real detail because I wanted to know who he was as a husband and a father. He was a real family man and he had a lot of strong values and ethics. There's a lot about him that I actually can identify and relate to with him, especially the loyalty."