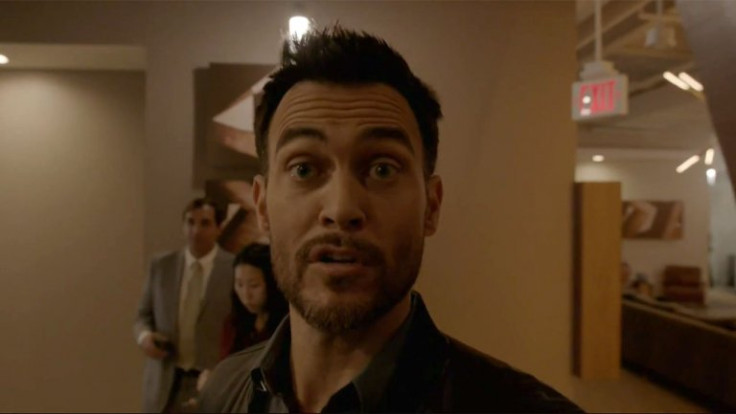 American Horror Story: Roanoke returns with a new episode this Wednesday 26 October at 10pm EST on the FX Network. AHS season 6's episode 7 will pick up from where the game-changing previous episode left off.
Click here to watch AHS season 6 via live stream. Click here to watch it online on the FX website in the US. You can also download the FXNOW app here to watch the show.
Episode 6 of the sixth season went behind the camera of Sidney Aaron James (played by Cheyenne Jackson) who – after the success of his docu-series My Roanoke Nightmare – is planning a sequel titled, Roanoke: Three Days In Hell.
After getting the green light from production, Sidney and his team gathered the real people and the actors to the Roanoke murder house for three days, which also happened to overlap with the Blood Moon time.
The production placed all the stars back in the haunted house with 24-hour hidden-camera surveillance to document their reactions to ghostly encounters. By the end of the first night, Rory (played by Evan Peters) is murdered by the ghosts of sadistic nurses. There is also a twist as it is revealed that everyone inside the house will die except for one.
Co-creator Ryan Murphy spoke to Eonline about this twist and about who will make it out of the house alive. He said, "We realised in doing a horror show as a reality show, as did everyone watching, that there were no stakes because we know they survive they leave the house. Everybody's seen that episode where Shelby and Matt get into their car and they race off and that's the end. But no, no, no, no, no. We are giving you stakes. What I love now is everybody's in the house and they all think it's fun and games, and then we are told that every single one of them dies except one person.
"So the next four episodes, we are figuring out, OK, who's the one person who's going to make it out alive? And what are they going to do to do payback against a network that put them all in a situation where they all are going to be killed? So it kind of was and is a commentary on social reality television because I do feel like that is the next level where something really bad is, somebody's going to die for the sake of real TV."