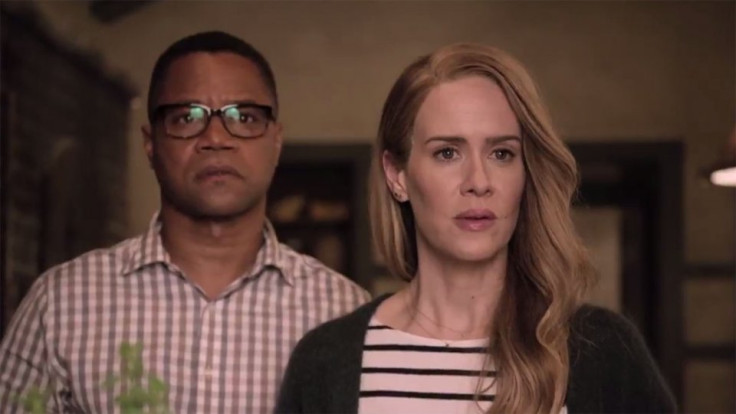 Survival is at stake for Miller family as they are being hunted by The Butcher and her colony of ghosts in the upcoming episode of American Horror Story: Roanoke airing on 12 October at 10pm EST on the FX Network.
Click here to watch AHS season 6 via live stream. Click here to watch it online on the FX website in the US. You can also download the FXNOW app here.
In the previous episode of AHS Season 6, we learned more about the history of the creepy farmhouse. Shelby and Matt were saved from a pig-headed man by Elias Cunningham, who claimed he was the last owner of the house and knows all its secrets.
Elias revealed that their farm was built on the lost colony of Roanoke, Thomasyn aka the Butcher was responsible for all the past disappearances in the house and all of killings occur on the same 6-day lunar cycle in October. Elias tried to help Shelby and Matt and even found Flora but was later tragically killed by a barrage of arrows shot by the spirits.
The Millers then asked for help from Cricket, who revealed more about Lady Gaga's witch character. We found out that the Butcher declared her loyalty to the witch –who has mystical powers– by killing members of her colony, and then she let the witch kill her as a blood sacrifice to the Gods.
In the end moments, we saw that the colonists captured Cricket and Flora. While Flora managed to escape, Cricket was disembowelled by the spirits. The chapter ended with the Butcher warning Shelby and Matt that they were next.
A promo for the upcoming episode reveals that the colonists will attack Matt and Shelby in the farmhouse. It opens with Shelby saying in the documentary, "You could feel the house coming alive around you," as we see fleeting images of the spirits running around their farmhouse.
Then we see the Butcher saying, "This land is mine," as Matt in the documentary admits, "ThIs was a mob and they were coming for us." Shelby says, "We should have known we are nothing more then preys."