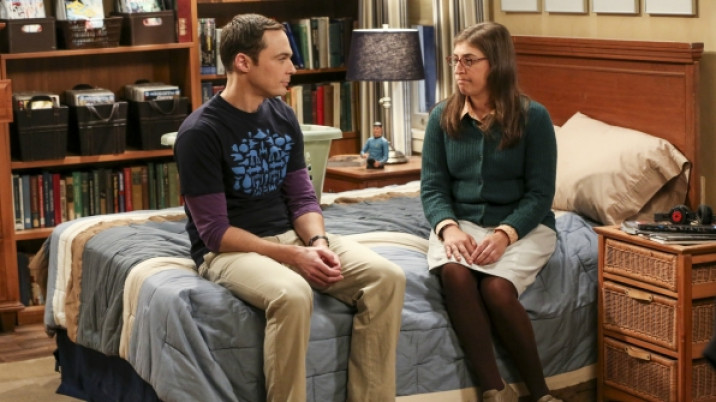 Fans will finally be treated to Sheldon Cooper and Amy Farah Fowler moving in together as a part of an experiment on this Monday's chapter of The Big Bang Theory season 10. Episode 4 is titled, The Cohabitation Experimentation will air on 10 October at 8pm EST on CBS Network.
The chapter will also reveal the gender of Howard and Bernadette's baby. The official synopsis for the chapter reads as follows:
When Amy's apartment floods, she proposes a "cohabitation experiment" with Sheldon. Also, Howard and Bernadette are upset when Koothrappali learns the gender of the baby before they do.
Click here to watch the premiere episode via live stream online. You can also click here to watch it online (only in the US).
A preview for the episode opens with Amy complaining about her apartment getting flooded to Penny and Leonard. Amy says, "There was water everywhere, such a mess." Leonard adds, "That stinks. How long are you going to get your apartment back?" To which Amy says five weeks.
Then she says that all her clothes are destroyed as the pipe was over her closet. Penny also offers Amy to live in her apartment. "You need a place to crash, you can stay with us, You can stay in Leonard's room and we will stay in my place," says Penny.
Following this, Amy asks "So technically I would be moving in with my boyfriend?" And, Penny replies, "I guess so, and I finally get to live alone with my husband" Amy then gushes, "Oh my. This is a big step."
This certainly is a big step for the couple, so do not miss this Monday's episode of The Big Bang Theory to find out how if their living arrangement is a success or a failure.