We're less than two weeks into the Trump administration, and already the gun manufacturer's lobby is reminding Americans and the new president that they were his "strongest, most unflinching ally" – and the single-largest outside donor to his campaign.
So you can bet that the leadership of the National Rifle Association (NRA) will do everything they can to make sure he keeps his promise to "never let them down" and use this to advance their dangerous agenda to allow guns everywhere, for anyone, no questions asked.
The organisation's top priority? Something they call "concealed carry reciprocity", a name that makes it sound relatively innocuous. But it is actually an extremely dangerous idea that would gut existing gun laws and force all 50 states to allow violent criminals, domestic abusers, and even convicted stalkers to carry hidden, loaded guns everywhere.
When it comes to who can carry guns in public in our country, one size does not fit all and this policy would make the weakest gun laws in the country the standard everywhere.
Not to mention, we are already seeing the usual rampage of dangerous gun bills being considered in statehouses across the country. Among them: legislation in Florida that will expand Stand Your Ground; proposals to dismantle permitting requirements for who can carry hidden, loaded guns in Montana, North Dakota, Texas and Virginia; force or allow guns into K-12 schools in Florida, North Dakota, Texas, Virginia and force guns onto college campuses in Arkansas — something students, parents, teachers, school administrators, and campus law enforcement overwhelmingly reject.
It's still early in the year. There will be more reckless bills to follow.
I have a message for the gun lobby and the lawmakers who do its bidding: Moms Demand Action for Gun Sense in America is not going anywhere. Together with Everytown for Gun Safety, we are three million strong with chapters in all 50 states.
For us, the safety of our communities and our children's lives are on the line, so there is no doubt we will be blocking the NRA leadership's agenda at every turn and continuing our fight for an America free from gun violence.
Our efforts will be met with attempts by fringe gun extremists to silence us. I know this first-hand, having received death threats and threats of sexual violence since the very moment I started Moms Demand Action four years ago.
My kids have been targeted online, and our volunteers are often stalked at public events by armed gun extremists. In one of our first state chapter events, nearly 40 gun extremists showed up with an arsenal of weapons outside a Texas restaurant where a handful of our volunteers were having a lunch meeting.
Their goal was to stifle our growth in Texas, but it didn't work. In fact, nearly 300 volunteers gathered at the statehouse just this month to send a message to lawmakers that we're here to stay and that we will continue to push back against bad policies that put public safety at risk.
We won't allow this kind of harassment and intimidation to stop us from continuing to fight for what is right. We are mothers, after all, and do not cower when it comes to protecting our children. But we can't go it alone. It's going to take millions of everyday Americans who refuse to accept gun violence as the new normal to stand up and speak out.
Too often, Americans believe there is nothing we can do about the gun violence problem we have in this country. But I know that is not the case. In just the four years that Moms Demand Action has existed, we've defeated gun lobby priority bills that would have forced colleges to allow guns on campus, would have allowed guns in K-12 schools, and would have dismantled the state concealed-carry permitting systems to suddenly allow anyone to carry hidden, loaded handguns in public without a permit or training.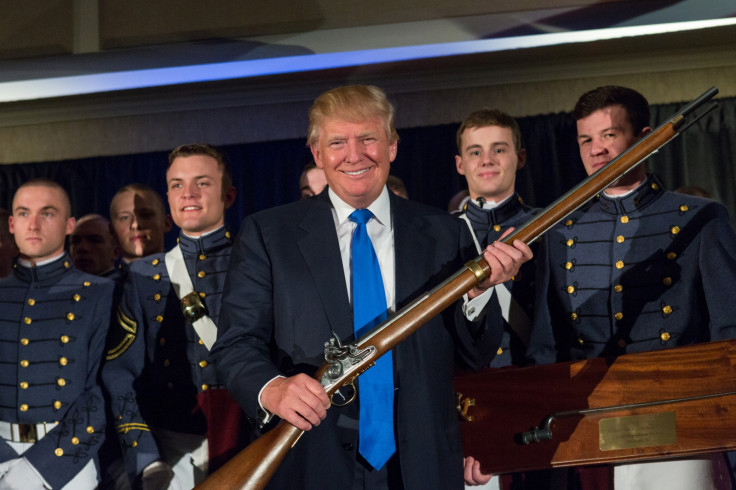 Despite fervent and often threatening opposition, we fought for gun safety ballot initiatives. The 2016 election cycle was one filled with plenty of surprises, but voters made one thing clear. Voters approved new, life-saving gun safety ballot initiatives in California, Nevada and Washington State. The public believes in common sense gun laws. We'll keep standing with legislators who do too – putting the health and safety of their constituents before the priorities of the gun lobby.
We're also driving cultural change by asking America's corporate leaders to enact gun safety policies that protect their customers and employees – and they are listening. Retailers like Trader Joe's, Target and Levi Strauss have said no to the open carry of guns in stores; and many others have followed suit.
To be sure, we've got our work cut out for us. But we know how to show up and send a message to our nation's leaders – in Congress, in statehouses and in corporate boardrooms across the country – that women will not stand on the sidelines while our safety and the safety of our families and communities is jeopardised by the gun lobby's apocalyptic vision of guns for anyone, anywhere, any time – no questions asked.
We have to be the David to the NRA's Goliath and prove that when everyday Americans come together and speak out, we can and will win. Our lives depend on it.
---
Shannon Watts, founder of Moms Demand Action for Gun Sense in America, the grassroots arm of Everytown for Gun Safety
---