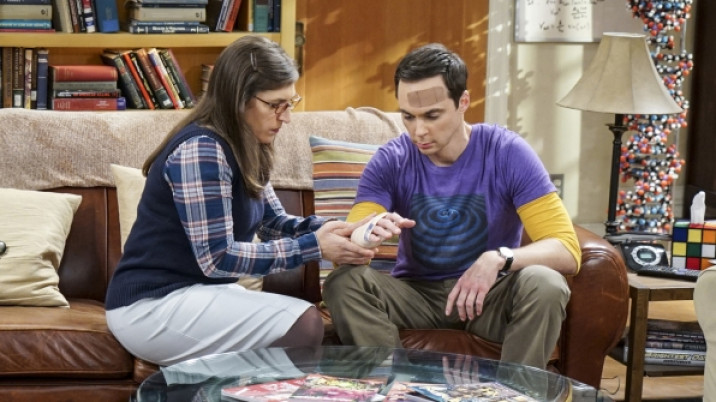 Sheldon is green with envy when his colleague Bert is awarded the MacArthur Genius Grant and even injures himself trying to cope with the news, in the upcoming chapter of The Big Bang Theory season 10.
Click here to watch the premiere episode via live stream online. You can also click here to watch it online (only in the US).
Episode 9 is titled, The Geology Elevation, which will air on 17 November, at 9pm EST on CBS Network. According to the synopsis for the chapter, "When Bert (Brian Posehn), a Caltech geologist, wins the MacArthur Genius fellowship, Sheldon is overcome with jealousy. Also, Wolowitz finds an old remote control Stephen Hawking action figure he invented."
A promo for the episode shows Sheldon cribbing to Leonard, Penny and Amy while walking towards their apartment.
Leonard says, "Ignore him. He is just cranky because Bert from the Geology lab won a big grant." Penny says, "I heard him interviewed on the radio. You know when they told him you won, he didn't believe it..." An exasperated Sheldon says, "Who listens to the radio anymore?" Everyone then praise and talk about Bert for his achievement leaving a fuming Sheldon behind.
According to a leaked report, Sheldon reads Bert's paper and injures his foot while throwing a rock. Sheldon again gets mad when Bert talks about getting a grant for Howard and slips and hurts his head.
Later, Sheldon goes to Bert's house to confront him, but after the geologist reveals that he likes Amy, the physicist tries to karate chop Bert and ends up injuring himself. The promotional pictures released show Amy tending to Sheldon's various injuries.
The report also stated that Sheldon and Bert put an end to all the bad blood and were going to see the Ellen DeGeneres show together.