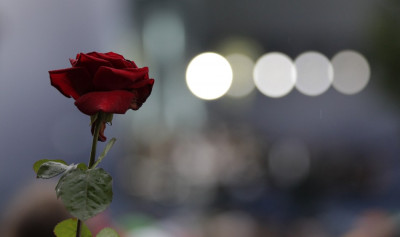 Norwegians have held memorial services across the country to mark one year since far-right extremist Anders Behring Breivik killed 77 people in gun and bomb attacks.
Services were held at the scenes of Breivik's bomb attack in Oslo, which claimed eight lives and Utoya Island, where he gunned down 69 people at the Labour Party's youth camp.
Prime minister Jens Stoltenberg, who attended a wreath-laying ceremony at the bomb site, said Breivik had failed to ignite his perceived war against multiculturalism, instead uniting the country in defence of democracy and tolerance.
Stoltenberg told the crowds: "The bomb and gunshots were meant to change Norway. The Norwegian people answered by embracing our values. The perpetrator lost. The people won."
A private ceremony was also held on the island where Breivik stalked his victims disguised as a police officer, shooting students, one as young as 14. Eskil Pederson, a survivor of the attack, said: "Today we remember those who were killed. Tomorrow we continue the fight for what they believed in."
More than 50,000 people attended an open-air concert outside Oslo City Hall, with Bruce Springsteen making a surprise appearance.
A ruling has still to be delivered on Breivik's mental state. Throughout his trial, in which he recounted his killings in gruesome detail, he maintained that he was not insane but carried out his actions for the good of his country.
During the trial, Norwegians showed their defiance of Breivik's extreme views by gathering for a concert near the Oslo district court, where they sang songs in favour of multiculturalism.
Prosecutors claim that Breivik is insane, while his defence team is calling for him to be legally culpable, in an unprecedented court case. A decision is expected on 14 August.