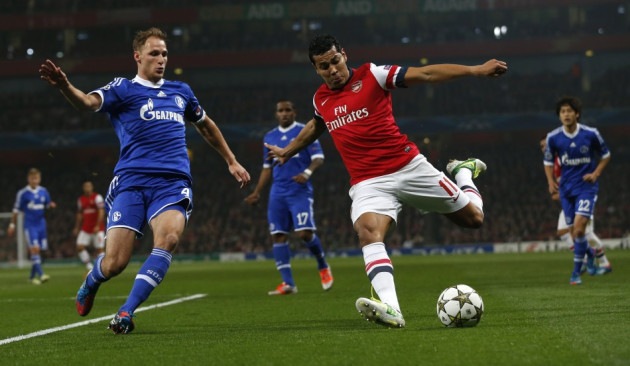 Arsenal could have the opportunity to rid themselves of flop Andre Santos this summer as Flamengo are reportedly planning a loan move for the Brazilian.
The left back did not enjoy the best of spells during his two years in London, earning the ire of Gunners fans with error strewn performances before returning to his homeland to join Gremio on a six month loan deal during the January transfer window.
Such was Wenger's lack of faith in the Brazilian international that he brought in Nacho Monreal from Malaga during the January transfer window, with the Spaniard and Kieran Gibbs now firmly ahead of Santos in the left back pecking order.
Gremio were unable to afford a permanent deal for the defender due to financial restrictions, much to the disappointment of Santos who begrudgingly retuned to the Emirates last month only to be left out of the travelling squad for Arsenal's tour of Asia.
But the Evening Standard report that Flamengo are preparing another loan deal for the Arsenal misfit with hope of granting Santos' wish - and perhaps those of Arsenal fans - and taking him back to Brazil.
Santos would appear reluctant to stay in England, making his feelings known when his deal with Gremio expired.
"My loan deal is over," Santos said in June, Sky Sports report. "It was six months long and now I am returning. Gremio had an agreement with Arsenal and I have to return.
"I wanted to stay. Gremio were fair regarding everything. I felt well there and I wanted to win a title before leaving. Unfortunately there is no deal and I had to return to Arsenal."
Many Arsenal fans will not be too disappointed should the 30-year-old leave the club again before the start of the new campaign. In addition to his unconvincing performances, the defender earned the ire of Gunners when he decided to swap shirts with once revered Arsenal captain Robin van Persie at half time during his side's 2-1 defeat at Old Trafford last season.