Arsenal winger Andrey Arshavin hasn't exactly been the most popular man at the Emirates this week, and a small look at his statistics over the last four seasons makes it simple to see why fans are fed up with the Russian international's performances.
Arshavin was brought on in the 74th minute against Manchester United last Sunday, and while he ran onto the pitch to replace on-fire youngster Alex Oxlade-Chamberlain, even Robin van Persie himself couldn't hide his annoyance at Arsene Wenger's substitution decision.
And the 30 year old put in a lacklustre performance to follow, of which both Wenger and van Persie have had to defend, with Arshavin himself remaining conspicuously quiet amongst the talk over his imminent exit.
Wenger purchased Arshavin on the back of a particularly stand-out performance for Zenit St Petersburg in the Russian outfit's Europa League winning campaign in 2008. His fee was believed to be in the vicinity of £15 million, and big things were expected from the man who Wenger called an "exciting impact player with a huge amount of ability and has been an influential force with both Zenit St Petersburg and the Russian national team in recent seasons," as reported by the BBC.
Now, once month shy of three years later, and Arshavin is a shell of the player who commanded one of the highest fees in Arsenal's history. While he has made 30 appearances for the side this season, his impact has been minimal, and pundits are starting to call on the Russian to do his club a favour and leave.
"He looks the most disinterested player in the league, to me. I think he wants to go back to Russia. Well, go back," Sky Sports pundit Gary Neville said of his performance against United.
"The Arsenal fans don't want him out there. If the captain's reacting like that, you've got problems."
And unfortunately for Wenger, the stats tell a damning story of a slow decline for Arshavin that appears to be continuing on a downward spiral.
According to Castrol EDGE Performance analysis, while Arshavin has made more appearances in the league this season (18) than in 2008/09 (12), he had a gap of just 166 minutes between goals when he joined the club, and 719 minutes between scoring now.
His shooting accuracy has diminished 21.8% over the four seasons, and the amount of time between tackles has almost doubled from 45 minutes to 80 minutes.
Is more time on the pitch the answer? It wouldn't appear so if the numbers are anything to go by. Even though in the 2010/2011 season, where Arshavin spent 2194 minutes on the pitch, his form continued to slide downwards, leaving Wenger no choice but to severely limit his game time this campaign.
Wenger is touted as one of the top managers in the world for finding talent who can reach their maximum potential, and the Frenchman has certainly had his patience paid off on numerous occasions with future European stars.
But in the case of Arshavin, it would appear that Arsenal's patience would have to be running very thin.
The decline of Andrey Ashavin since the winger joined Arsenal: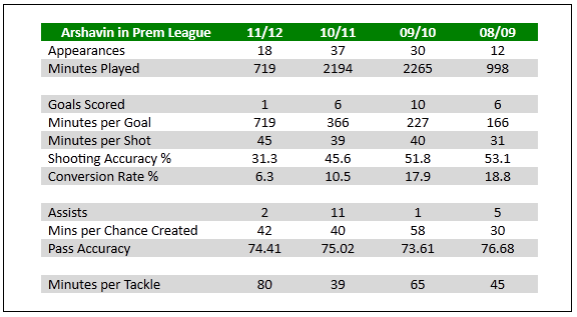 For the latest Football and transfer updates, along with exclusive and breaking sport news, follow the IBTimes UK Sports Twitter here