Nvidia has started Android 5.0 Lollipop software upgrade for its Shield tablet.
Last week the company announced that the new Android version will be available for its Shield tablet on 18 November, which is powered by a 192-core Tegra K1 chip. However, it now appears that Google's major Android software has already made its way through to the device, a day earlier than schedule.
Twitter user, Vincent S via GSMArena confirmed this by sharing a screenshot of the Lollipop update on the Shield tablet. Weighing at 705.27MB, the update adds a number of notable changes to the tablet, such as:
Android 5.0 Lollipop software upgrade
Nvidia GRID On-Demand Gaming Service
New Nvidia Dabbler v2.0
Enhanced DirectStylus Launcher
USB Y-cable support
Enhanced Console Mode with 4K output support
Improved charger compatibility and performance
Optimised GPS functionality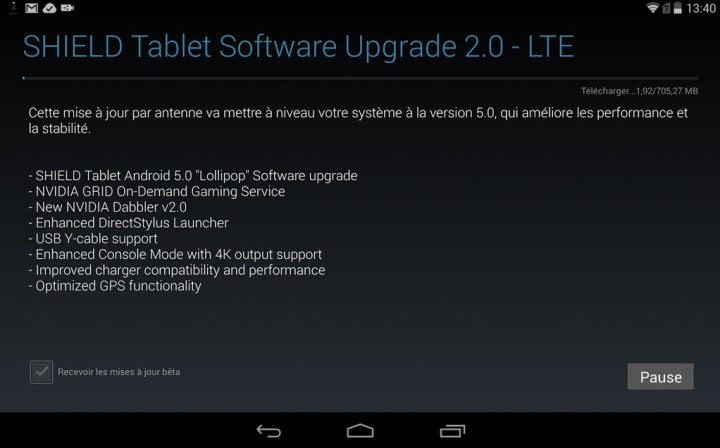 This makes the Shield one of the first tablets to be upgraded with Android Lollipop that has new material design interface and improved app performance. Also included in Android 5.0 is the Dabbler app. The painting software in the tablet will offer full support for layers and users can now share live Dabber sessions over Twitch.
Nvidia had previously confirmed that Shield users will soon receive the iconic Half-Life 2: Episode One from Valve, which has been optimised for Tegra K1.
"It will be part of a "Green Box," bundled for free with the 32GB/LTE version of the SHIELD tablet. The bundle also includes Half-Life 2 and Portal, two amazing games Valve has already brought to the Shield," a release note said.