Google Nexus 9 devices are still awaiting the release of the latest Android 5.1 Lollipop OTA update, even as Samsung and T-Mobile have already started rolling out the Android 5.1.1 update for the Galaxy S6 Edge.
Nevertheless, there is some good news for Nexus 9 owners as the Android engineering program manager, Sascha Pruter, has recently confirmed via Google+ that the OTA releases for the 9in tablet are still in the works and undergoing the beta testing phase to fix all existing bugs, before the final public release.
It is not yet clear if both the regular and LTE updates will roll out at the same time or not as Pruter does not work directly on N9 updates and hence he has not divulged any info about the release timeframe or the bugs involved, reports Android Police.
However, Android Police opines that the bug-fix update could be focused on resolving issues with Nvidia's 64-bit Denver CPU cores, while other 64-bit devices have already started receiving regular Android 5.1 Lollipop updates.
In other words, it seems the Nexus 9 would be the last 64-bit device to receive the Android 5.1 update at the moment, and we can only hope for a quick turnaround time for the impending update.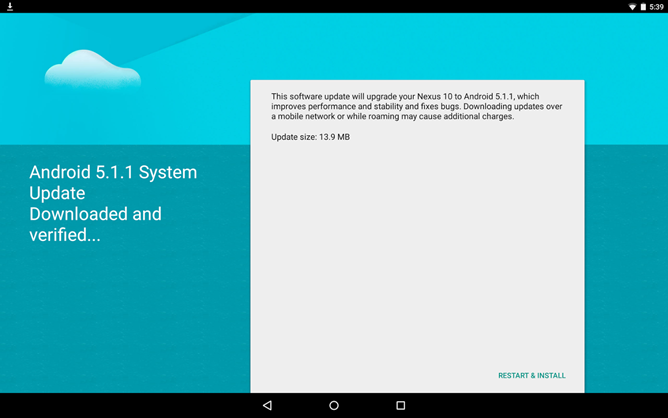 In related news, folks at Android Police have confirmed through one of their tipsters that the Nexus 10 has already started receiving the Android 5.1.1 OTA update via build number LMY47V.
The OTA update for Nexus 10 roughly weighs in around 13.9 MB and given its file size, it is ascertained that it could bring a handful of performance and stability improvements along with a bunch of bug-fixes as depicted in the screenshot.
Nexus 10 holds the record of being the first Nexus device to get Android 5.1.1 Lollipop OTA update, while Nexus 9 is still awaiting its first Android 5.1 update.
On the other hand, Nexus 7 2012 Wi-Fi and 2013 Wi-Fi devices have to manage with the newly released factory images for Android 5.1.1 from Google until their first OTA equivalent comes out.