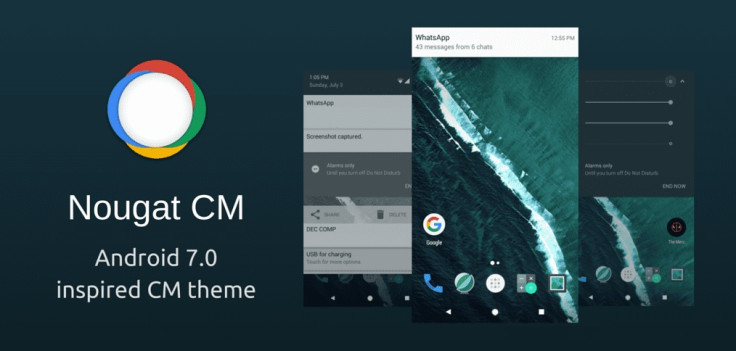 A CyanogenMod theme based on the latest developer preview build of Android Nougat version 7.0 is now available for download, ahead of the official rollout, which is scheduled for third quarter for this year.
The new theme for the CyanogenMod Theme Engine is supported by CyanogenMod 12.1 and 13 and all custom ROMs based on the same ROM. In addition, there are bunch of other things that are themed in Android Nougat, such as system UI including notifications, QS header, volume panels, settings, phone/dialer, contacts, calculator, WhatsApp, trebuchet, launcher and Google Now launcher.
Also included in this CyanogenMod theme engine are wallpapers from the latest preview, navigation bar and Nougat styled flat notification.
An XDA developer, Ashomitsu, who has created this theme, claims to have tested this fully on Nexus 5 running CM13, although the nightly version. Following is the changelog for the Nougat CM theme;
Fixed CM File Manager background (previously dark)

Fixed Wallpaper not displayed in CM Theme chooser

Fixed version code

Improved Navigation Bar

Improved Launcher 'All Apps' icons

New Wallpaper

New bootanimation (replaced with new Nougat CM themed one)

New App icon

Reduced .apk file size
The theme is still under development and still has a few hiccups here and there, which are expected to be fixed due course of development. There have been complaints about the bootloops on the Moto G devices for some unknown reason. A temporary fix for this issue is to perform wipe for the Dalvik and System Cache. You can download the Nougat CM apk like any other apk.
Download link: Nougat CM apk