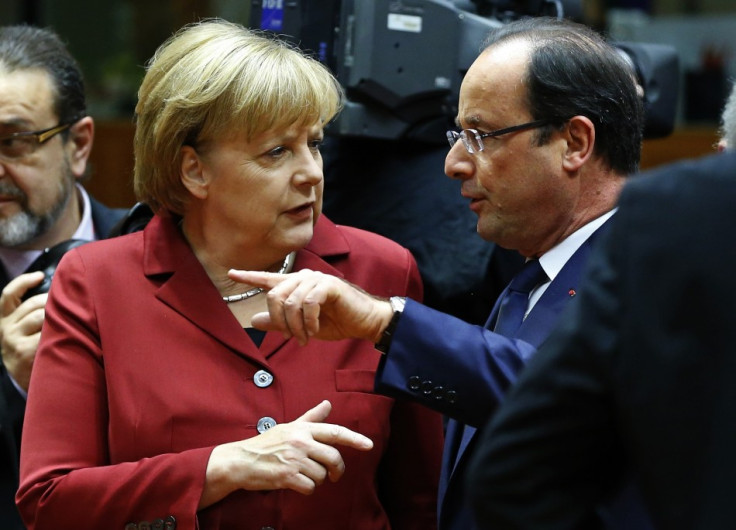 French President François Hollande and German Chancellor Angela Merkel are poised to hold key talks on EU migrant crisis and the Ukrainian unrest. The duo are to meet in Berlin on the heels of one of the biggest migrant influxes on European shores.
The number of people seeking asylum in Europe is the largest in 50 years with European leaders battling hard to handle the situation. The AFP news agency cited a government source as saying the two key European leaders would discuss "harmonising" the approach toward asylum-seekers and setting up a "complete European policy".
"There has to be a new impetus so that what has been decided is implemented and there are new perspectives. The situation is not resolving itself," said the source referring to the earlier decisions taken. French Foreign Minister Laurent Fabius added the duo would also discuss quotas for accepting migrants.
The renewed diplomatic push has come after an Italy-led coastguard operation rescued hundreds of migrants, mostly from Africa and the Middle East, off the Libya coast. Officials say nearly 4,400 desperate asylum-seekers, who were travelling in unseaworthy boats in search for a better living, were picked up from the waters over the weekend.
Following the talks over migrants, the two leaders will also discuss the unrest in Ukraine, a meeting in which Ukraine President Petro Poroshenko will take part. Despite several rounds of negotiations and repeated agreements, the violence between the Kiev forces and the militia does not seem to scale down.
One of the key issues to be discussed is the unimplemented ceasefire agreement ironed out during the Minsk talks. "The key task of the Ukrainian authorities is to form a powerful international coalition that will stop the aggressor," the Ukrainian president told reporters referring to Russia. Moscow's representatives are not expected to take part in the conference.