Angelina Jolie had two of her biggest supporters by her side on a fun night out at the Nickelodeon Kids' Choice Awards on 28 March.
Two of the actresses children with Brad Pitt, Shiloh, 8 and Zahara, 10 cheered her, on as she was announced Kids Choice Favourite Villain for her role in Maleficent.
The 39-year-old was given a big hug by her children who joyously threw their arms in the air to celebrate their mother's big win.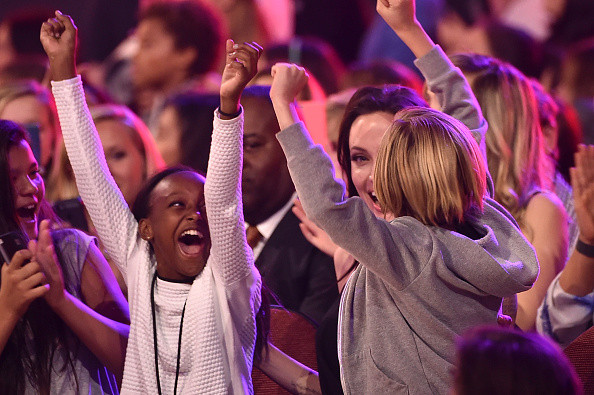 Accepting her award, Jolie described how she understood what if felt like to be a child who was outcast and different.
"When I was a kid I was told - like Maleficent - that I was different. But then I realized something: different is good. So maybe you don't fit in. Be yourself. And when someone tells you that you are different just smile and hold your head up, and be proud.'
"And as your villain I would say, Cause a little trouble. It is good for you!" she added with a wry smile and a wink.
The awards night marked her first public appearance after she revealed that she has undergone an operation to remove her ovaries following a cancer scare.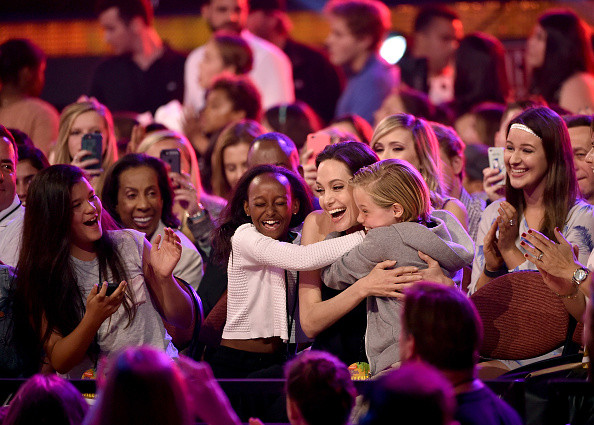 An article by the movie star was published on the New York Times website on 23 March in which she explained the reasons for her decision.
Titled Angelina Jolie Pitt: Diary of a Surgery, she revealed that she would no longer be able to bear children and had been warned to expect 'physical changes' as a result of the surgery. She described the side effects and added that "it is not possible to remove all risk"' she remains "prone to cancer."
Describing the weighty decision she had to make she said: "I went through what I imagine thousands of other women have felt. I told myself to stay calm, to be strong, and that I had no reason to think I wouldn't live to see my children grow up and to meet my grandchildren.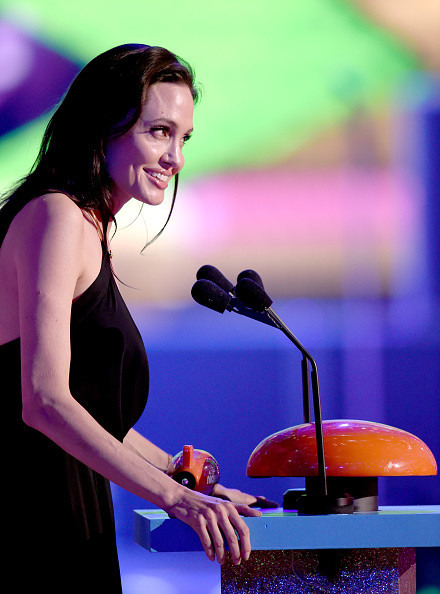 "'But I feel at ease with whatever will come, not because I am strong but because this is a part of life. It is nothing to be feared."
The Oscar-winning actress, who lost her mother and an aunt to breast cancer, advocated preventative care.
"It is not easy to make these decisions," she explained. "But it is possible to take control and tackle head-on any health issue. You can seek advice, learn about the options and make choices that are right for you. Knowledge is power."
Two years earlier the actress published an op-ed detailing her decision to have a double mastectomy to prevent the onset of breast cancer.