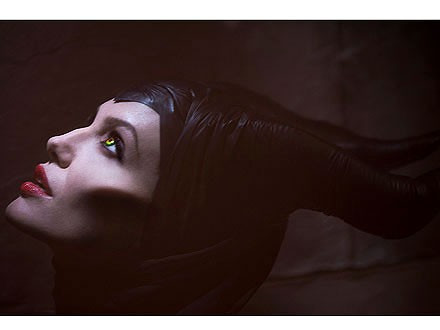 Hollywood glamour girl Angelina Jolie can look stylish even in a villainous role! Brad Pitt's fiancée startled everyone during filming for Disney's Maleficent, in the Buckinghamshire countryside, by looking fashionable... even with horns!
Jolie will play the role Maleficent - the evil Queen in Sleeping Beauty - and was seen in a horned headdress with red lips, yellow contact lenses and a long brown cape. Her sharp cheek bones - reportedly inspired by Lady Gaga's cheek prosthetics on her Born This Way - album cover added more essence to her appearance.
During the shoot, she was seen in between a herd of bulls walking down the middle of a field. The make-up crew was constantly at work, adjusting both her attire and hair. The first photographs of the actress were released last week, giving a glimpse of her unseen darker side.
"We're experimenting with different things. But the horns are the horns, you can't deny them. You have to have horns," Jolie said regarding her costumes.
The film focuses on Maleficent's early life and the events and struggles that turned her to her dark side, which led her to curse Aurora in the 1959 classic Sleeping Beauty. Aurora will be played by Elle Fanning in this film, which will also feature Juno Temple, Imelda Staunton and Lesley Manville as the three pixie fairies. However, the mother of six feels the character had her own reasons to turn wicked.
"It's not anti-princess, but it's the first time they're looking at this epic woman," Angelina said in an interview with Entertainment Weekly, adding, "I hope in the end you see a woman who is capable of being many things, and just because she protects herself and is aggressive, it doesn't mean she can't have other warmer qualities."
The film marks the directorial debut for Academy Award winning (Avatar and Alice in Wonderland) production designer Robert Stromberg and the team includes producer Joe Roth (Tim Burton's Alice in Wonderland, Oz the Great and Powerful) and screenwriter Linda Wool