Angelina Jolie, Hollywood star and envoy for the United Nations' refugee agency, has brought attention to the plight of Syrian refugees on the fifth year anniversary of the country's revolution by visiting a camp in Lebanon.
Jolie spoke to journalists while rain poured down in a refugee settlement within sight of the Syrian border in Lebanon's Bekaa valley. "We cannot manage the world through aid relief in the place of diplomacy and political solutions," she said as Syria's leaders return to "proximity talks" for the first time since February in hopes of reaching a peace settlement.
Jolie commented in the past she had hoped to be in Syria with refugees returning to their homes on the fifth anniversary of the uprising. She said it was "tragic and shameful that we seem to be so far from that point," AP reported.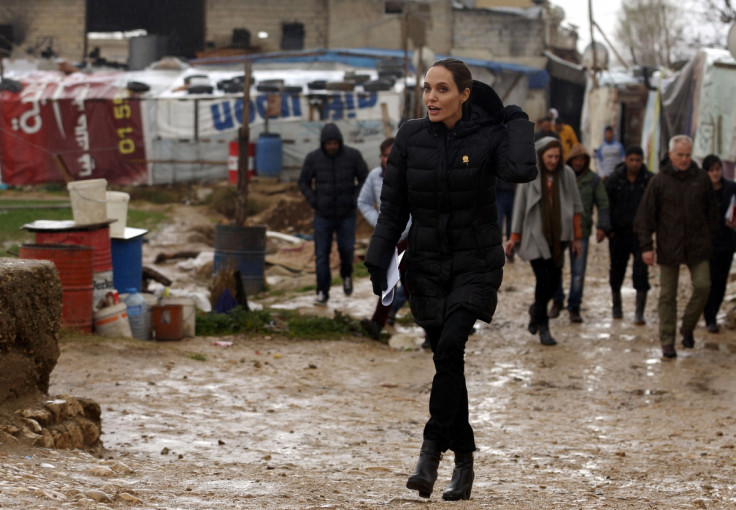 "We should never forget that for all the focus on the refugee situation in Europe at this time, the greatest pressure is still being felt in the Middle East and North Africa, as it has for each of the last five years," said Jolie.
Jolie also addressed the the crisis in Europe. She called on all transit countries for migrants and refugees leaving Syria to aid refugees and stand by their international commitments. "The reason we have laws and binding international agreements is precisely because of the temptation to deviate from them in times of pressure," she said.
The war in Syria in numbers:
Number of dead: 250,000 – 470,000*
Number of displaced: 11.3 million (6.5 million in Syria and 4.8 million outside), UNHCR
Number of refugees in neighbouring countries -
Turkey: 2,715,789
Lebanon: 1,067,785
Jordan: 639,704
Iraq: 246,051
Egypt: 118,512
Economic damage: $275 billion, World Vision
Number of children out of school: 3 million, UNICEF
Children born in conflict: 3.7 million, UNICEF
Damage to cities (Aleppo, Daraa, Hama, Homs, Idlib, and Latakia): $3.6 billion to $4.5 billion,World Bank 2014
* According to the UN over 250,000 people have been killed and well over a million wounded .A report by the Syrian Center for Policy Research, an independent think tank, said 470,000 deaths