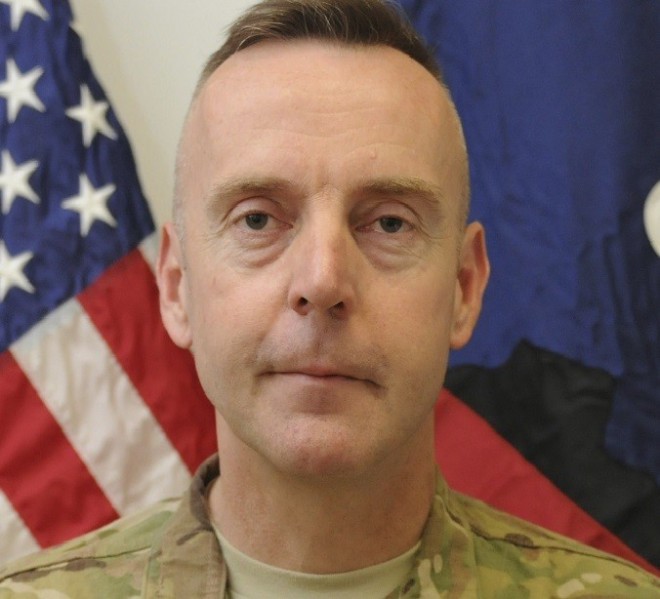 A US Army general who admitted to an adulterous affair and other improper relationships with junior female officers has been spared a prison sentence and dismissal.
Adocates of military justice reform have said the case has proved the leniency towards alleged sexual assault and misconduct.
Brigadier general Jeffrey Sinclair received a reprimand and a $20,000 fines and restitution but has avoided any demotion in rank, after a plea deal in his court martial saw the charges dismissed.
He admitted to having a three-year affair with an officer, a 34-year-old captain, as well as two other inappropriate relationships. He also pleaded guilty to disobeying a commander's order, misusing a government credit card to visit his mistress and maltreatment of the captain.
Separate charges that he forced a military intelligence officer with whom he was having an affair into oral sex, as well as threatening to kill her and her family, were dropped.
Sinclair, who is a veteran of five combat tours, is thought to be the highest-ranking general in history to be tried for sexual assault. He was the former deputy commander of the 82nd Airborne Division and of American troops in southern Afghanistan.
The general's defence team stated they were grateful for the sentence, which was ordered by judge colonel James Pohl. They argued Sinclair was unfairly portrayed as a sex offender, although he was guilty of less.
On hearing the sentence, Sinclair said "the system had worked" and all he wanted to do was "hug my kids and be with my wife".
In final arguments, prosecutors said that Sinclair should be dismissed from the Army and lose his military benefits. They said he had abused his position of power and used it to exploit women.
Jamie Barnett, a lawyer who is an unpaid advisor for the captain who accused Sinclair of forcing her into sex acts, told the LA Times: "Today's sentencing is beyond disappointing. It is a travesty and a serious misstep for the army."
Sinclair's defence argued that his dismissal from the army would harm his innocent wife and children the most. Sinclair's sentence was handed down with no explanation as to why he avoided prison.
The defendant could have been facing 20 years in jail after the plea deal, although the prosecution did not ask the judge for a prison sentence. The charges included possessing pornography in a war zone, seeking a date with a lieutenant and requesting explicit photographs from female army officers.
Prosecutor major Rebecca DiMuro, said: "It's not just one mistake. Not just one lapse in judgment. It was repeated. They are not mistakes. We are not in the court of criminal mistakes. These are crimes."
Supporters of military justice reform have argued the case proves the US forces still tolerate sexual misconducts, despite pressure from Congress and the president to eliminate the problem.
There are an estimated 26,000 sexual assaulta a year in the US military, yet reporting is low and according to CNN, the conviction rate is less than 1%.
Eugene R Fidell, a military law professor at Yale, commented that military commanders were aware of the issue. He said: "They are aware, trust me on this. They are aware the Senate will not confirm people to higher pay grade if they are believed to be soft on sexual offences."