Hundreds of activists took to the streets in the Philippines, burning effigies of their President Rodrigo Duterte and his US counterpart Donald Trump as they protested against the US troops' involvement in the Marawi siege.
The activists scuffled with police as they staged the protest outside the US embassy in Manila on Friday (15 September). They were reported to have expressed dissent over the current military operations in Marawi, where US troops are helping Filipino military forces eliminate the Islamic State-linked insurgents in the Mindanao island.
The activists also reportedly rallied against the implementation of martial law in the region, local media reported.
Left-wing activists said that Duterte, who has lashed out at the US – once a close ally of the Philippines – at several instances in the past, still continues to be a "puppet" of the US as he is yet to fully revoke defence treaties with the country and has allowed Americans to assist his government in Marawi.
The US military provided surveillance planes and technical staff to the Philippines to combat the Islamic insurgents in Marawi as the Filipinos make a final push to end a conflict that has raged for more than 100 days. More than 800 people are reported to have died since the siege began.
"This is a government that no longer pursues an independent foreign policy and is no different from past regimes that have embraced US imperialism in the Philippines," said Renato Reyes Jr, Secretary-General of the New Patriotic Alliance, a left-wing Philippines organisation, according to Reuters.
Video footage captured by the news agency shows the activists marching with banners that read, "US: Imperialist, # 1 terrorist. Hands off Marawi! US troops out now!"
They clashed with the police as they marched, and some of the protesters also burnt effigies of Trump and Duterte.
Duterte upended Manila's relationship with the US as he sought alliances with China and Russia soon after he took office in June 2016.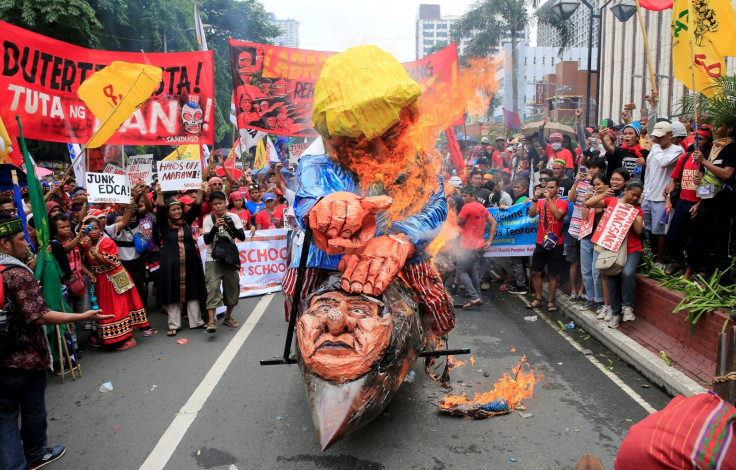 Meanwhile, Duterte is reported to have threatened to declare nationwide martial law next week if a scheduled protests by communists and left-leaning groups turn violent.
"He said, if the left will try to have a massive protest, start fires on the streets, they will disrupt the country, then I might (declare martial law)," Defence Secretary Delfin Lorenzana told reporters, recounting a conversation he had with Duterte this week.
The demonstrations are reportedly planned on 21 September to voice opposition against Duterte's war on drugs, as well as his alleged attacks on democratic institutions.
However, Lorenzana said he does not think Duterte would actually take such measures because he said he doubted if the protests would be as big as the organisers claim they are going to be, CNN Philippines reported.
"But the president is indeed very concerned because it might get out of hand. So he said, 'I might declare martial law'," Lorenzana said.