Anni Dewani sent a text message saying her husband Shrien Dewani was inadequate in bed, it has been reported.
The discovery of the text message contradicts Shrien Dewani's claims that he and his new bride had regularly had sexual relations.
South African authorities believe that millionaire care home owner Shrien Dewani is secretly gay and consented to marrying Anni to hide his sexuality, but ultimately wanted to get out of the marriage.
The 34-year-old is charged with staging a fake carjacking in South Africa where the couple were on their honeymoon in November 2010. Anni Dewani, 28, died when she was shot in the neck as they travelled in a taxi on the outskirts of Cape Town.
Xolile Mngeni, who prosecutors claim was the hitman, was convicted of premeditated murder for the shooting, while an accomplice, Mziwamadoda Qwabe, pleaded guilty to murder and was handed a 25-year prison sentence.
Taxi driver Zola Tongo, who testified that Dewani set up the killing, was also jailed for his part in the crime.
The Sun reported that Anni Dewani's uncle Ashok Hindocha has said his niece texted her cousin Sneha Hindocha saying: "Finally did it. Not as good as my previous boyfriends."
He dismissed reports that Anni had ever said as claimed: "'Last night we had it five times."
Further adding to the theory that Shrien Dewani was hiding the fact that he is gay, a 40-year-old male prostitute based in Birmingham told police he met Dewani for sex sessions after the relationship with Anni had begun.
Munich-born Leopold Leisser, known as the 'German Master', told police that Dewani, who he photographed during one of their meetings, told him that he was engaged.
"He said that she was a nice, lovely girl, and that he liked her, but that he could not break out of it in any way because he would be disowned by the family," he said.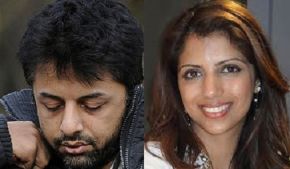 Shrien Dewani has said the claims that he is gay are untrue and that he is able to provide evidence of his whereabouts when the alleged sex sessions are said to have taken place.
A source told the Sunday Mirror: "Police have always said the motive for Dewani was he wanted to get out of the marriage without admitting he is gay. The fact Anni told her cousin they were having sex regularly severely damages that argument."
The couple were married in a lavish £200,000 wedding in a Mumbai hotel, however Annie's father revealed his daughter had always had doubts about Shrien once saying: "Papa, he's like a Hitler - but don't worry - I will get married."
The 28-year-old had also sent a series of text messages to her cousin Sneha in which she expressed her despair at the prospect of being married to the millionaire and had attempted to call off the wedding at least three times, but was persuaded by her fiancé not to break off the engagement.
Five weeks before the wedding, she wrote: "I don't want to marry him... I'm going to be unhappy for the rest of my life... one cannot even hug him... we have nothing in common."
Other texts read: "Want to cry myself to death. Crying every day," and a month before the wedding she texted: "Hate him."
Three days before her death, she wrote: "I don't feel happy at all."
Shrien Dewani was last week extradited to South Africa to face trial for the murder of his wife Anni Dewani. His extradition was delayed by three years after his lawyers claimed he was suffering severe depression and post-traumatic stress disorder.
Shrien Dewani was remanded to a high security mental hospital in Valkenberg, where his condition will be monitored by investigators 24 hours a day to determine whether he is fit for trial and fully understands the indictment for murder.
A report based on their findings will be submitted to the court within 30 days and his hospitalisation period could be extended or a court date set.
Mr Dewani, from Bristol, denies murder. His family insisted Dewani "remains totally committed to proving his innocence".
The case will resume on May 12.