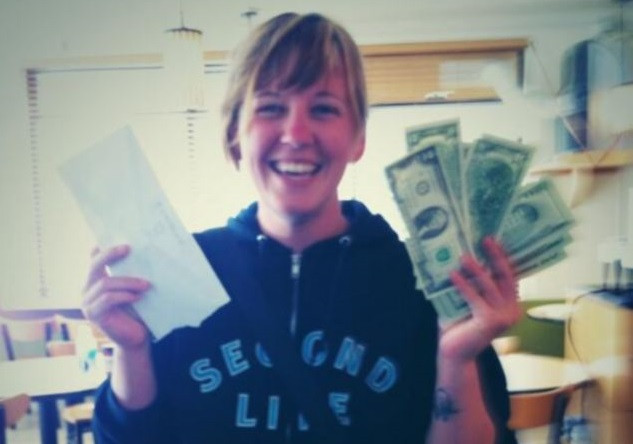 An anonymous philanthropist who has been leaving money all around San Francisco with clues to its whereabouts on Twitter has revealed his reason for such generosity.
Described as an "anonymous social experiment for good", the person behind Twitter account @HiddenCash has given away thousands of dollars in San Fransico and is planning on continuing the goodwill in other cities.
After leaving clues as to where the money has been hidden, grateful followers then upload a photograph of themselves posing with the money and the white envelope it came in.
Some of the clues @HiddenCash posted online, range from a photograph of a beach along with the caption "Life is a beach... and I'm just playing in the sand" to more cryptic clues including simply, "Stand on top of the Caterpillar that's close to the water".
Other places where the money has found include taped to a side of a tree and hidden inside a public unisex toilet.
While wishing to remain anonymous, the person running the @HiddenCash account has spoken publicly about why he is giving money to strangers on the internet and what he plans to do next.
The person behind the attack, believed to be a man, told Time magazine via email: "I have made my fortune in real estate, and have been able to accumulate multiple properties, whereas so many people can't afford to buy a house or even a small condo in San Francisco.
"People who work just as hard or harder than me. So I wanted to give back... But I also wanted to do something that would give back in a fun way, and get people involved."
The San Francisco Chronicle also revealed HiddenCash is a man aged 35-45 and had different ideas about how he would give away the money.
"I played around with different ideas, and frankly, they were too complicated," HiddenCash said. "I was thinking of a 'Survivor'-type game... or something like it at some point."
In only a matter of days, @HiddenCash gained nearly 60,000 followers on Twitter. The experiment is proving so successful it is looking into expanding into other areas of the US.
"I have no plans to stop anytime soon. In fact, we will also drop some in LA next week (I am going there on business). Any maybe expand to more cities," he added.
Despite many people wanting to thank him in person, @HiddenCash has no desire to break his anonymity.
"There are a few reasons I would like to keep my privacy," he said. "One, some people close to me wouldn't like that I am giving money away. Two, I enjoy having my privacy. Three, I had some publicity before and nothing good ever resulted from it."
"I just hope some rich one-percenter like me doesn't find it and keep it," he added.
"In no way is this meant to be instead of charity. I also donate generously to charity."