In a yet another rail accident in India within 10 days, about nine coaches and the engine of a passenger train derailed near western state of Maharashtra's Thane district on Tuesday (29 August) morning.
There are no immediate reports of casualties or injuries, but it is the third such major train mishap this month on the world's fourth biggest rail network.
The nine carriages of the Duronto Express plying between Mumbai and the central Indian city of Nagpur derailed near Asangaon in Thane district, about 70km (44 miles) outside the Indian financial capital, at around 6.40am local time (1.10am BST).
Local media reports say the rescue and relief teams are at the accident spot.
"There are no injuries to passengers. We are arranging buses to bring passengers to destination. Doctors and senior officers are already at site," Central Railway said in a statement.
Footage shared on social media showed passengers getting off the train themselves.
Electricity supply to the train was reported to have been shut off as precautionary measure to prevent any loss of lives.
Death toll from train derailments in India in 2016-17 is reported to be highest in a decade. At least 193 people have died in these accidents as of March.
The increase in the casualties is believed to be despite a significant dip in train mishaps in the last 10 years in the country.
Reports suggest train derailments are the primary cause for major accidents in India – 78 of the 104 accidents were because of carriages going off tracks, Indian broadcaster CNN News18 reported.
On 23 August, at least 42 people were injured after 11 coaches of the Kaifiyat Express, travelling to the Indian capital, New Delhi, went off the tracks after it collided with a truck loaded with construction material.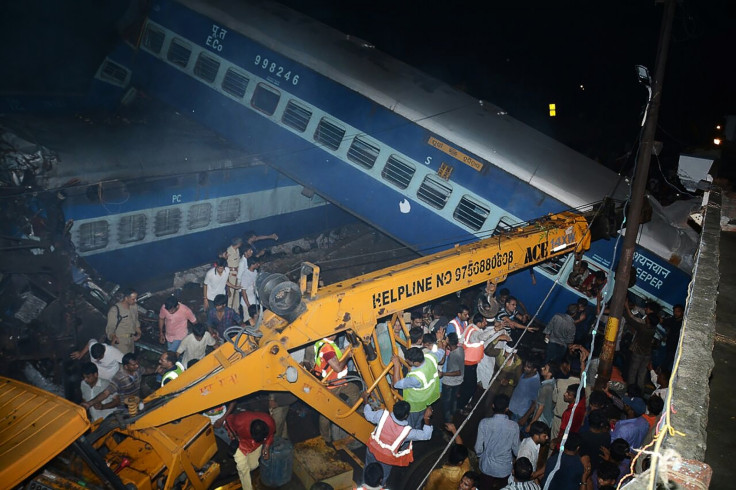 In another major incident a week earlier, 23 people were killed and 123 injured in a derailment near the Hindu holy city of Haridwar in the northern state of Uttar Pradesh. As many as 13 carriages of the Puri-Haridwar Utkal Express came off the tracks on 19 August near the town of Khatauli.
The incidents prompted India's Railway Minister Suresh Prabhu to offer his resignation, while the Narendra Modi government suspended three senior railway officials.