A train derailment in India has killed at least 11 people and wounded more than 100 others after 14 carriages left the track in India's northern state of Uttar Pradesh, roughly 80 miles from the capital New Delhi, on 19 August.
Anand Kumar, additional director general (ADG) of Law and Order, said in a statement to local television networks: "30 - 40 are critically injured after Uttar Pradesh train derailed near Khatauli."
Kumar said that 10 people had been killed, but officials have since raised the death toll to 11. Varying reports suggest the death toll could in fact be be over 20.
He added that 30 ambulances had so far reached the area close to the city of Muzaffarnagar, to aid the rescue operation. Reuters reported more than 100 injuries.
Prime minister Narendra Modi issued a statement on Twitter, saying: "Railways Ministry & UP Government are doing everything possible and providing all assistance required in the wake of the train derailment.
"I wish those injured a speedy recovery. The situation is being monitored very closely by the Railways Ministry... My thoughts are with the families of the deceased."
The derailment occurred at 5.46 p.m local time when the front coach collided with a house, according to NDTV. The impact sent two more carriages climbing over each other. The Utkal Express train was heading from Puri in Odisha to Haridwar in Uttarakhand.
Minister of Railways Suresh Prabhu also took to Twitter, saying: "Have ordered inquiry into the unfortunate accident to ascertain the cause. Strict action will be taken against any lapse."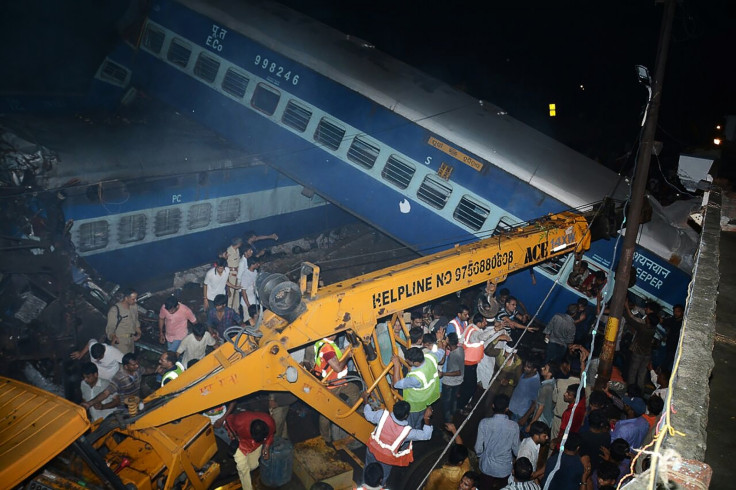 Anil Kumar Saxena, ADG of Indian Railways told The Times of India: "14 coaches of the train have derailed, at this stage nothing can be said about the cause of accident. We have mobilised all our resources to provide the best relief and rescue operations at this time."
Television stations have been broadcasting from the site, showing several badly damaged carriages piled atop each other as survivors and locals search for survivors amidst the wreckage.