Ant-Man star Evangeline Lilly gave a little insight about the future of her character Hope Van Dyne in further movies, as well as her seemingly inevitable development into the superhero the Wasp as she reveals she's already been "scanned for the suit". If you know what's what when it comes to Marvel films, you undoubtedly would have lingered as the credits started to roll and wouldn't have missed the short sequence that revealed Hope's on-screen father Hank Pym had been tinkering away at a super suit especially for her without her knowledge.
The clip never actually showed Lilly in the costume, but simply had the two characters looking at the restored one-piece in that typical superhero-movie way that usually indicates that something epic will be happening off the back of that scene. And now, it appears that comic-book lovers are keen to know whether she will be donning that suit any time soon.
During a Q&A for fans on Facebook, one commenter outright asked the 36-year-old whether she had already been fitted with the Wasp's outfit, to which Lilly matter-of-factly replied: "I was scanned for #TheWasp suit, but then I got pregnant. Let's hope I fit it again!" Finishing off the answer with the intriguing hashtag "#ineedtime!" When asked by another about whether her character will feature in any upcoming movies, enthusiastic Lilly also wrote: "I 'hope' so. Keep bugging Marvel about it!"
Marvel Studios president Kevin Feige previously stated that the original plan was to introduce Van Dyne as Wasp in 2016's Captain America: Civil War but confessed that they didn't want her to be overlooked by the well-known, existing characters so they opted out of getting her involved in the project. Which hints that the studio heads have big plans when it comes to the Wasp's on-screen debut.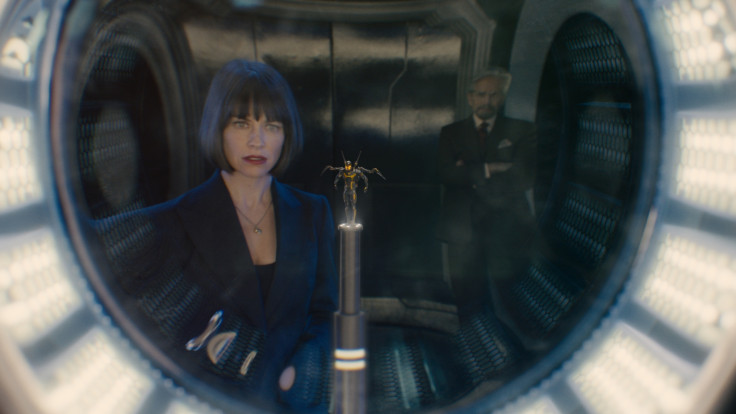 Throughout the question and answer session, the Lost actress also touched upon the slight differences between Edgar Wright's initial interpretation of Hope Van Dyne and Peyton Reed's finished product in the movie. "She became more relatable and a little less like an original, 1960's comic book character. I loved both versions, but the version we settled with fit better in the #marvelverse," she told one fan. "I'd still love to do Edgar Wright's version, too."
Afterwards, Lilly continued to answer some questions on her personal Twitter account, where she sang Wright's praises further and voiced how instrumental his vision for Hope was in the final product. Writing to Twitter user @tonysgirlfriday, she confessed that she "drew a lot of inspiration from @edgarwright's original vision of Hope," describing it as "tres #FilmNoir."
Whilst it's understandable that she has some fondness for the way in which her character started when it was first being adapted to screen, could her constant referral to Wright's version and her admiration for it mean that she and Wright have something in the works in terms of Hope's future plotlines as she feels his imagining has unfinished business? A comment back on Facebook could mean so, as Lilly wrote: "I am writing [a comic character] next year. So, I have to keep it a surprise. It's not a superhero, but she is a very cool heroine." But in true Marvel style, everything will be kept under wraps until the exact moment when they want us to know something, and that time might be very far off yet.