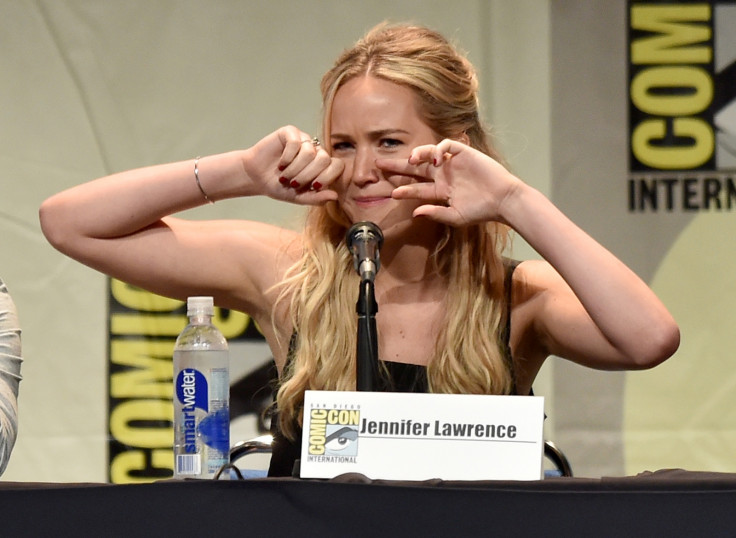 Jennifer Lawrence, who turns 25 today, 15 August, is arguably one of the craziest characters in Hollywood. She can't help but make everyone laugh with her self-confessed love of food and her candidly honest admissions during interviews. To messing about at several awards and teasing her numerous co-stars. Lawrence is one celebrity that doesn't mind just having a little fun.
She's starred in several hugely successful movies, including American Hustle, X-Men, The Hungers Games saga and Silver Linings Playbook – for which she received a best actress accolade at the 2013 Oscars. But whilst there's no denying that everyone loves her on-screen because of her enormous talent, she has just as many fans that simply love her for being so down-to-earth, wacky and likeable off of screen too.
Here, IBTimesUK offers up one epic list of Lawrence being gloriously silly in honour of her hitting the quarter of a century milestone… Happy birthday Jennifer!
Falling... a lot: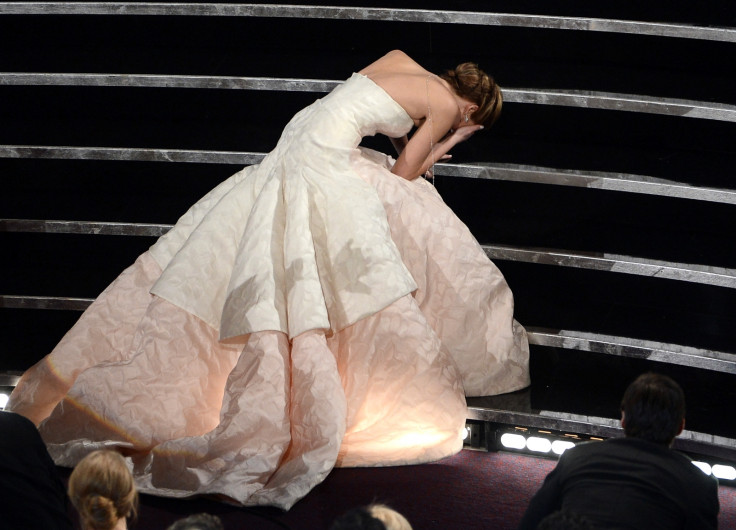 Only Jennifer Lawrence could beat out the likes of Jessica Chastain and Naomi Watts and fall flat on her face whilst she was making her way to accept the award – and still look cool. When stepping onto the stage of the 85th Annual Academy Awards 2013, the Silver Linings Playbook star tripped on her gown and stayed there for a good few minutes before she got herself and delivered her speech.
And to make things even worse, this wasn't the only time that the actress took a very public tumble either. She repeated the hilariously iconic moment at the following year's Oscar ceremony when she fell over her dress outside on the red carpet. Oh, J-Lawr.
When she cut her hair and her Hunger Games co-stars didn't like it:
"The first time Liam saw me with this haircut, he was like: seriously? And then I started singing Wrecking Ball, he got angry and stopped talking with me for five minutes."
Taylor Swift photobomb
Queen of pulling faces and owner of photobombs, Lawrence crept up on pop star Taylor Swift whilst she was doing an E! interview with presenter Ryan Seacrest on the red carpet for the 2014 Golden Globes. Shortly after she tiptoed up the stairs embodying sort of gremlin, Seacrest introduced the Winter's Bone star to which she took the opportunity to explain to Swift that she wanted to push her down on camera as it'd be "funny".
As if that wasn't enough, when Lawrence took over being interviewed by Seacrest as she was up for the accolade of best supporting actress for American Hustle on the night, her bracelet snapped and fell to the floor just as she was describing what she was wearing!
When a presenter ruined Homeland for her:
It seems like everybody these days are sensitive towards spoiling big shows in front of their friends, family, work colleagues and sometimes, even people they don't even know! But even after Lawrence explained to these two presenters that she had only watched the first and second season of drama Homeland, they proceeded to tell her a HUGE spoiler from the season three finale. Safe to say, she wasn't very pleased…
I beat Meryl:
It's no a secret that Meryl Streep often dominates the award seasons, particularly if she's nominated, but Lawrence confused everyone when she got up on stage and the first thing she said was "Oh, look what it says… I beat Meryl," before continuing on with her speech. Many of the audience members were left flummoxed as they thought the young star was gloating about winning over Streep. Even Lindsay Lohan took to Twitter to indirectly throw shade on Lawrence, writing: "No1 should ever mess with a legend, such as Meryl Streep."
But it turns out, Lawrence was actually quoting the 1996 Goldie Hawn/Bette Midler movie The First Wives Club, where in one scene, Midler enters Hawn's house, picks up an award looking statuette and repeats the exact words that Lawrence said on the night of the ceremony. Oh, now we get it.
Second photobomb:
After getting a taste of it when she snuck behind Swift at the Golden Globes one year, Lawrence decided to repeat the photobombing fun at the New York City premiere of The Hunger Games: Catching Fire in 2013.
When she admitted what her nickname on the set of The Hunger Games was...
"Mine is Katpiss Never-Clean. Because we were shooting long hours and sometimes I would show up with the same blood and dirt on me from the day before. I was tired and I had to sleep! So I didn't shower so I wasn't very clean… Oh, and I peed in the woods."
Jack Nicholson freak out:
Lawrence has never been shy in letting her inner fan girl come out. From confessing that she thinks ITV 2 series The Only Way Is Essex is "ridiculously amazing" to gushing about Brad Pitt smelling like sandalwood at the 2014 Oscars, it's something that she's never been afraid to share with millions of people.
So when iconic actor Jack Nicholson interrupted her interview with Good Morning America to congratulate her on her win at the 2013 Academy Awards, she didn't bother about containing her excitement. When she spotted who it was speaking to her, she hid her face in her hands before the pair shared the jokey exchange of Nicholson spouting: "You look like an old girlfriend," to which she replied: "Do I look like a new girlfriend?" The Shining star then laughed and simply responded: "I've thought about it," before turning away and rejoining the crowd of celebrities.
Where's the pizza?!
The Hunger Games stars certainly sound like they have a lot of fun together both on and off set whenever they were filming the movie adaptations, but Lawrence's recollection of the anger she felt when co-star Josh Hutcherson's mother failed to order them pizza when they were spending time at his house became a viral sensation.
On explaining how she deals with paparazzi:
"I wrap myself up to look like Lord Voldemort so that they can't see anything because the thought of giving them a picture that will make them money absolutely infuriates me."
Oscar selfie: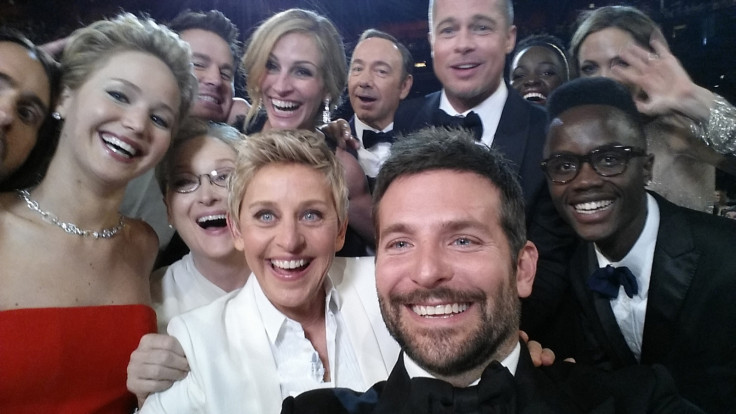 Labelled as the "most famous selfie in the world", Ellen DeGeneres' group shot from the Academy Awards in 2014 remains the most shared image ever over multiple social media platforms reaching a huge 2 million shares, and of course, Lawrence got in on the action!
Is your rash doing okay?
Ever the prankster, Lawrence interrupted an E! Online Hutcherson was conducting as she jokingly asked him on camera whether his "rash was doing OK?" Laughing, Hutcherson attempted to carry on the interview by shrugging off her comment and saying "She's crazy!" But just a few seconds later, Liam Hemsworth followed in Lawrence's teasing footsteps by standing in between Hutcherson and the camera filming him so that he couldn't get a word in. Poor Josh.
Embarrassing Emma:
Emma Watson is known for her poise and grace when it comes to both photoshoots and public appearances, but Lawrence was determined to quash that reputation, whilst simultaneously proving that she can liven up any event, at a Christian Dior fashion show in Paris. The Silver Linings Playbook star decided to face palm her Harry Potter alum acquaintance in front of several cameras but luckily for Lawrence, always polite Watson seemed to take it all in good humour.
Third photobomb:
You'd think that paparazzi would have expected it by now that whenever Lawrence is presented with flashing cameras in front of her and finds herself in perfect position behind an A-List celebrity, chances are she's going to photobomb. And that's exactly what she did at the 2013 Met Gala as actress Marion Cotillard witnessed the whole thing and started laughing.
Mani-cam:
The mani-cam was infamous amongst Hollywood, polarising actresses as every year they were forced to either politely recline the request of putting their hand in front of a camera so those at home could see their jewellery, or be game and go for it.
Whilst many willing stars simply placed their hand inside the box and daintily twinkled their fingers to show off their accessories, at the 2013 SAG Awards, Lawrence exclaimed that the camera made her hand look chubby and proceeded to lunge her clawed hand whilst humming "dun, dun, dun."
When she was asked how she feels about being a "style icon":
"I really would not call myself a fashion icon. I would call myself somebody who gets dressed by professionals. [It's like], 'Dance, monkey, dance' right on the red carpet.' I would call me more of a monkey."
When she sneezed during an interview:
"Sorry! That was phlegm. That was so powerful. I'm like a dragon!"
...and lastly, another photobomb:
She did it once, she did it twice, she did it three times! But Lawrence couldn't resist upholding her title of the best celebrity photobomber once more as she lunged in front of chat show host Conan O'Brien's camera as he tried to take a snapshot of himself and her two Hunger Games co-stars Hutcherson and Liam Hemsworth.