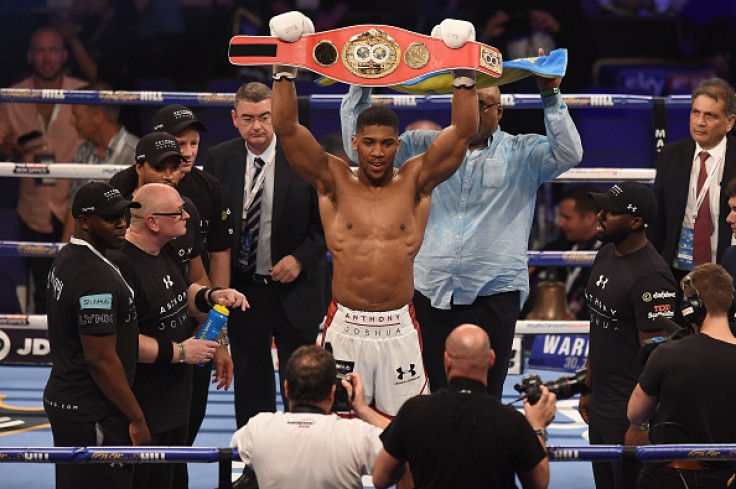 International Boxing Federation (IBF) heavyweight champion Anthony Joshua is not worried about who boxing promoter Eddie Hearn will find as his next opponent, as he is confident of knocking him out. The England boxing sensation is confident of his abilities in the ring claiming there is no boxer that he cannot beat by knockout.
The 26-year-old, who has fought 17 times in his professional career, is yet to be beaten, winning all his fights. That he has won all the clashes via knockout shows just how dominating Joshua can be in the boxing ring.
The Brit will find out who he is going to fight on 26 September, but has not given much thought on who his opponent will be. However, he is confident that he will beat his opponent via knockout.
"I think so. It's what I train for. It's my job. Anybody can get it. It's heavyweight boxing. Anyone can get it. Anyone is able to get hurt and knocked out. It would be silly of me to say no. What you speak into the universe is what you attract so I'm going to tell you is of course I can knock out any heavyweight in the world. I'll be ready", Joshua said, as quoted by DailyMail.
Eddie Hearn, who is the group managing director of Matchroom Sport, had recently confirmed that he is struggling to find an opponent for Joshua, as fighters are demanding ridiculous amounts of money to get into the ring. This is not affecting the heavyweight champion though, as he is not really concerned about who gets into the ring with him.
"He (Hearn) mentions a name. I'm like no problem. There's not a lot to talk about. I'm not like, "How does he look? Can we fight this guy? Why don't we. That's not my interest. "Eddie who are we fighting?" "We've got this guy." "Okay, cool no problem." I just get on with it", the Brit boxer added.
Joshua was last seen in action on 25 June earlier this year when he beat United States of America's Dominic Breazeale via knockout at the O2 Arena in London, England.