Anthony Joshua has set his sights on becoming a billionaire and believes he is still a long way from being one of the best fighters in the world. The 27-year-old has already made a substantial sum from his boxing career to date but is eager to earn as much as he can in order to become a self-made billionaire.
The Olympic gold medalist will certainly be making a pretty penny from his upcoming fight against legendary boxer Wladimir Klitschko on 29 April, but he is now on the hunt for the biggest purses possible. In order to earn those sums, the Watford-born fighter knows he must be one of boxing's leading lights.
"I've still got five years, more maybe, before I get to be one of the best fighters in the world," Joshua told GQ. "It's hard and I do understand the 10,000-hour rule and all that. But the thing is, I don't get paid for overtime. Do you know what I'm saying?
"But for me, it hasn't been quick because I know the reality of my journey. When I first started, the aim was to become a multimillionaire. But now there are ordinary people, grandmas and granddads, who are worth millions just because of property prices. So the new school of thought is that I need to be a billionaire.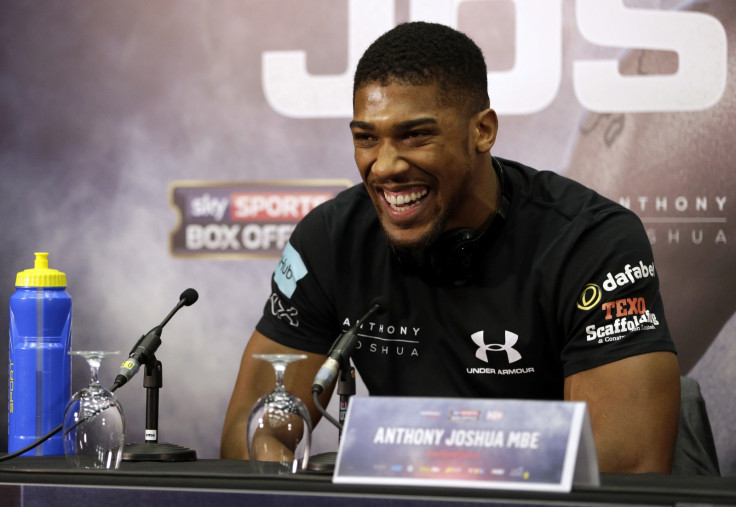 "Being a millionaire is good, but you have to set your sights higher. If I'm making £10m from my next fight, my next target has to be making 10 times that. And if I get to £100m-150m, why not go for the billion? I know self-made billionaires. It's hard, but it's possible."
Earning billionaire status is a long-term goal for Joshua, but his immediate focus lies on his bout with Klitschko. The IBF heavyweight champion is aware that he could be in for the long haul against the ageing Ukrainian, but believes he will eventually be able to introduce him to the canvas.
"I think I will knock Klitschko out," Joshua added. "I'm not superstitious about it, but I have a feeling that it will happen in a slightly unexpected way. It will be something like a counterpunch that will finish it. It won't be quick... It will take time because he is so experienced and he isn't easy to hit. But I will find my opportunity and I will take it."