Former Portuguese prime minister Antόnio Guterres remains the most popular candidate in the race to take over from Ban Ki-moon as the next United Nations' Secretary-General ahead of a crunch vote in October 2016.
In the fifth secret ballot on Monday 26 September, the Security Council's 15 members gave the remaining nine candidates in the running either a vote of either "encourage", "discourage" or "no opinion".
Guterres, who also headed the UN Refugee agency, is the only candidate to get more than nine votes of confidence, getting 12 "encourage" votes and two "discourage" votes.
Serbia's Vuk Jeremić rose to second position but lost support, scoring eight to six, and was followed by Slovakia's Miroslav Lajčák who got eight encourages and seven discourages.
However, there is growing speculation that there could be a late entrant to the race in the form of the EU budget commissioner, Kristalina Georgieva following weakening support for her fellow Bulgarian, Irina Bokova, the director general of Unesco, who only came in sixth place.
The Guardian reported that Bokova may lose the support of Bulgarian prime minister, Boyko Borisov, who had wanted Bokova to finish in the top two of Monday's ballot, which might pave the way for a late run from Georgieva.
But Isabelle Younane, campaigns and communications officer for the United Nations Association - UK, said her organisation would disapprove of any candidate being introduced at the eleventh hour.
This is because it would be at odds with the relative openness of this year's race whereby candidates have had to outline their agendas to the general public.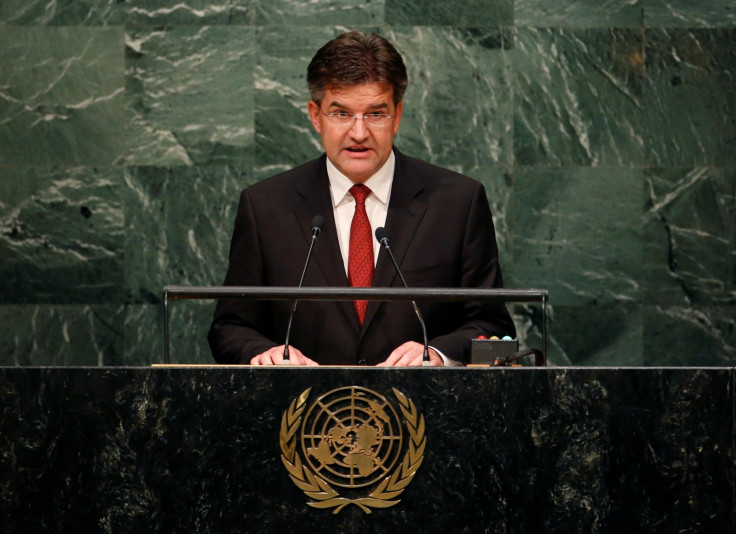 Younane told IBTimes UK: "We are hoping that if anyone who is brought forward is actually subjected to UN General Assembly dialogue before they are nominated by the UN Security Council."
If this did not happen, she said it "would be very disappointing" and would "reflect very poorly on the UN Security Council.
"I think it would be very politically damaging to accept a nominee that hasn't faced that public scrutiny," Younane said.
New Zealand's candidate of the position, former Prime Minister Helen Clark, came seventh equal in the latest poll with six encouragement votes out of 15. She has placed between sixth and eighth in previous voting rounds although she said she will stay in the race until the next round when countries with veto power reveal their votes.
That time will come on 5 October 2016, when the UN Security Council, with Russia as Council president, will hold its first colour-coded straw poll which will show if a P5 country is blocking the path for the world's next top diplomat. Russia has said it wants an eastern European in the role.