APEC Summit 2015: Riot police use water cannons as protesters burn vulture effigy in the Philippines
Riot police battled crowds and used water cannons in the Philippines, after hundreds of protesters burned an effigy outside the APEC Summit in Manila. The Asia-Pacific Economic Cooperation Leader's Meeting has been subject to large protests by left-wing activists, who say it only benefits multinationals and represents imperialism.
Over 200 protesters tried to reach the Philippine International Convention Centre on 19 November, where US President Barack Obama, Chinese President Xi Jinping and other world leaders were meeting on the final day of the summit.
RJ Manalo, the Secretary-General of the left-wing Gabriela Activst Group, said, "We just want to ask the world leaders of the APEC to put a stop to their meeting, because we know that what would actually follow is the plundering of our natural resources. What would follow are policies that will not be of help to the poorest of the poor".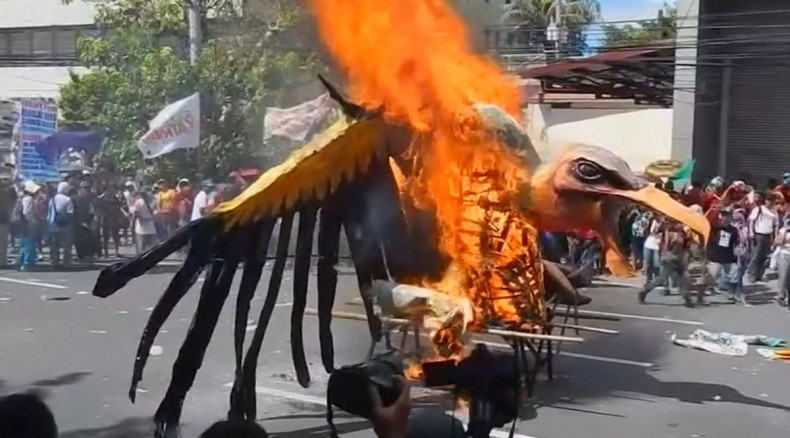 At least one police officer was injured in the Filipino capital. Members of the Bagong Alyansang Makabayan (New Patriotic Alliance) burned a large effigy of an American eagle that looked like a vulture near the Leader's Meeting.
Crowds chanted slogans including "we will struggle", and "junk APEC". It is thought around 30,000 additional police and security forces were drafted into the city for the summit.
APEC accounts for 60% of global economic output, and nearly half of the world's trade. The group is aiming for a larger free-trade area for its 21-member nations by 2025.