Apple has announced record sales for the iPhone 6 and iPhone 6 Plus in its opening weekend, with over 10 million units shifted worldwide.
This figure almost doubles the number of iPhone 5Cs and iPhone 5Ss sold last year, without the smartphone even being on sale yet in China - one of Apple's biggest markets.
"Sales for iPhone 6 and iPhone 6 Plus exceeded our expectations for the launch weekend," Apple CEO Tim Cook said in a press release.
"While our team managed the manufacturing ramp better than ever before, we could have sold many more iPhones with greater supply and we are working hard to fill orders as quickly as possible."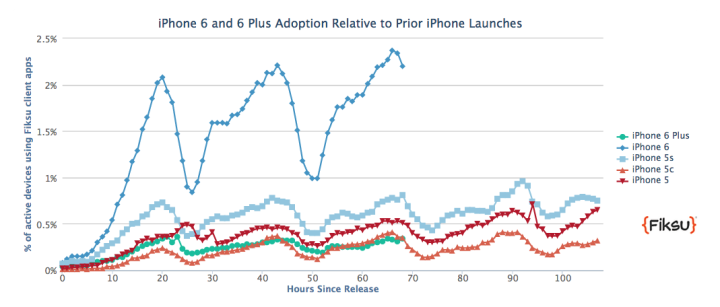 The iPhone 6 and iPhone 6 Plus went on sale on Friday 19 September, 10 days after Cook unveiled the two larger-screened devices at an event in Cupertino, California.
Cook has previously stated he expects the latest incarnations of the iPhone to trigger "the mother of all upgrades".
Barclays analyst Ben Reitzes had previously said anything above 10 million sales would be positive for Apple.
Other analysts have warned that first weekend sales should not be taken too seriously by investors.
"It is important for investors to keep in mind that 'first weekend sales' are principally a function of available supply rather than iPhone demand, as they represent actual shipments to customers and channel partners versus 'orders' [which may or may not have shipped]," Bernstein analyst Toni Sacconaghi said.
Since Apple made the announcement, there has been little movement for the company's share price.